I turned down three suitors for asking me to contiue to act after marriage – Rukayya (Dawayya)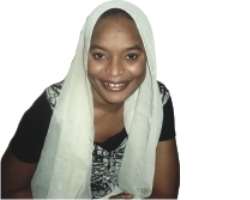 Rukayya Umar Sanda, best known as Dawayya, is one of the very few female artistes in Kannywood who came into limelight after her debut movie 'Dawayya'. In this interview with Maryam Garba Hassan, she talks about her role in movies, her relationships, money and the cost of stardom. Excerpts:
You were quoted in a recent interview that your mother was against your choice of career. How true is that?
What happened was that I went into acting without her knowing because she was in Saudi Arabia at that time while I was in Nigeria. She felt bad about it because of the negative perception people had about it, but when I explained things to her, she gave her blessing and the rest is a story.
Is it true that most female Kannywood artistes are attracted by the singing and dancing aspects of the movies that are shot?
Well, it is not so with me because singing and dancing do not really appeal to me. For me, the real attraction is the story line and the moral of the story.
But it's obvious that you sing and dance in your movies?
Once I accept a script that requires that I sing and dance, there is no turning back. After all, music makes movies more entertaining.
Does that mean that you don't turn down a script even when it contains some things you don't like?
Of course, I turn down scripts when I don't like the offer in view of the role I'm asked to play. I was given about 30 scripts to study this year, but I turned them down for personal reasons. This is why I've featured in just three movies this year. One of such offers came from Nollywood but I had to turn it down because I am a woman, a Northerner and a Muslim who has limitations in whatever she does in life. Ali Nuhu who is already in the system is a man and can act any role given to him. Still people complain about the things he did in some of the Nollywood movies he featured in. For instance, a lot of people complained about his dressing in the film Standa.
It was rumoured that a number of suitors sought your hand in marriage, but we are yet to hear anything?
That is true, but I rejected about three suitors not long ago because they were encouraging me to continue acting even after marriage. To me, it means that none of them is ready to take care of me after marriage. I can't imagine myself acting as a married woman. I am not materialistic or waiting for a rich man or the highest bidder because I am not a property for the highest bidder. All I want is a hardworking and sincere man who will love me for who I am, not what I am. Finding such a man is the problem female artistes' face all over the world. Again, being an artiste is not stopping me from getting married and I am not single because I am afraid that once I am married the privileges I am enjoying and the material things I am getting will cease as the majority think. I am an accomplished lady; all I need now to become fulfilled is a good husband.
Can we then say you are financially okay?
Yes, I must admit that whatever I am and have in life I got through acting. I have a car, a home and a business which brings income to me and my family.
What was the experience like in the movie 'Dawayya'?
It was quite challenging because it was my first movie and I was inexperienced. It took us hours to record one scene because most of the artistes in the crew were new.
At a point during a rehearsal, the director got angry at some of us. It was taking too much of his time to bring out the best in us. But when the movie came out eventually it was a blockbuster in the industry.
Is there any hope that you and Misbahu will rekindle your relationship which ended unceremoniously many years ago?
No, I don't think so, but we relate well. I believe that none of us was at fault as was insinuated by many within and out side the industry. We would have loved to be married but that didn't happen because it was never meant to be.
What is stardom to you?
Stardom has opened doors for me in life. I enjoy privileges everywhere I go and I must thank my fans and the public for the attention they give me whenever I go out and this has extended outside the country. I enjoy tremendous attention in Dubai, London and Saudi Arabia.
Can you tell us how many films you have acted in and produced in the last seven years of your acting?
I have featured in about 85 films in the last seven years and I have produced 14 films with my money, but only 10 out of the 14 are in the market.
It is true that you are expensive to work with?
Well, everyone, they say, is entitled to his opinion. I have a policy which is known by my colleagues, directors and producers I have worked with. Once I accept a script I will not be at the location of the film until you drop N100,000 for my hotel accommodation, feeding and fuel and whatever time you give I will be there at the location at the said time, may be that is what makes me expensive. I collect between N200,000 to N250,000 to act a movie and I think that is reasonable. If the story line is good and strong the film will definitely sell and the producer will smile to the bank with a sum that is bigger than the N250,000 I collected.
Can you tell us how much you were paid for your first movie?
I was given 10,000 in the beginning and I was so happy because it was the biggest amount I had ever received then. For two days I was going to the market to buy things for myself and I got N30,000 at the completion of the movie which I used to buy a Samsung cell phone. I couldn't sleep that night.