I'M NOT DATING PAUL PLAY DAIRO – ESSENCE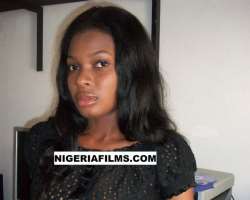 Uwale Okoro popularly known as Essence is regarded as one of the best female sound vocalists in the music industry with her dynamic music style.
This dark complexioned diva, who hails from Itsekiri Local Government Area of Delta State, has made remarkable success in her musical career since she started. Everyone, who is familiar with popular soap opera, Super Story, would not forget her eloquent voice in a hurry as the sound vocalist. This lovely artiste with great sense of humour is the last child of seven children. She attended Sunnyfield Nursery and Primary School, Surulere, Lagos and Federal Government College, Port Harcourt, Rivers State. She is also a graduate of Performing Art, Delta State University, Abraka.
In this interview, she speaks about her life experience, her relationship with Kenny St. Brown, Paul Play Dairo and other things.
What was growing up like?
I grew up basically in Lagos though we lived in Port Harcourt and Abraka. I had a lot of cousins and family friends, so it was always fun during our holiday because our house is always filled with over 30 people. Fuji House of Commotion, a soap opera, reminds me of my growing up. I was my eldest brother's baby then but he is married with kids now. So, he doesn't have my time again. In fact, my siblings really took care of me like the last child of the family and my parents gave me every parental care a child needs. My father is 76 years old while my mother is 73.
How old are you?
I don't know if your mother told you that a lady doesn't reveal her age. I don't know why it is like that, but it is a piece of advice from our elders so I can't debunk what my mother told me. However, I'm old enough to vote in the coming election.
When did you start your music career?
I have been singing from a very tender age. I believe God chose music for me. I chose music because I discovered my talent as a child. Even my uncle encouraged me. He stood by me to bless my career like my big Sister Kenny St. Brown and my record label Kennis Music.
When did you release your first album?
It was released in 2004 and is entitled, Truly Essence. It was produced by OJB Jereal and was inspirationally inclined. Basically, I like to talk about things that make sense because of my orientation. I listened to a lot of foreign music while growing up; so those were my influences. Again, I was a chorister in the church. I have been in the industry for close to 10 years, though I released my album in 2004.
What type of music do you play?
I sing R&B, Hip Hop and Soul.
Why did it take a long time before you released your next album?
I have been working on this album since February 2007. It was then I did the single, Good Boy where I have the old woman dancing. She represents me. We have been working on the songs to get it properly done.
Tell us about the album
It is a 14-track album and one of the tracks is done in my dialect to enable people to know my origin because there is a controversy over where I really come from. Some say I am from Calabar, others say Yoruba.
What was your first performance on stage like?
I was a back-up singer for Kenny St. Brown, though I had done for others. But my experience with Kenny St. Brown stage performance was a memorable one because of the massive crowd attendance. It was as if my legs stopped co-operating and my stomach started flowing like it would run away from my body. But as a back-up singer, it helps me to build confidence.
You were regarded as one of the best soul singers, why did you change?
It was my first inclination and I feel good about it though it is not everybody that understands you because it is more of a molecule way of expressing yourself. It is only those who think deep that will really key into it and they are very selective. However, everybody loves to dance.
Life is about change; so the same is applicable to music. As an artiste, you should flow with the kind of music in vogue to remain relevant in the industry. Although, I have not totally left my soul singing.
What is your relationship with Kennis music like?
I have been with Kennis Music since the release of my first album for which I signed a contract with them in 2004. We are like a family and we have become closer than before because the label has gone through a lot of changes. When I started with them, artistes were not allowed to go into the studio during recording, but now they allow us to enable us to share ideas as well as improve on each other's work. In fact, we are having a cordial relationship.
Why are you still with Kennis when some of your colleagues have left the label for one reason or the other?
Actually some of the artistes then left the label to redefine themselves. Some left for reasons best known to them. Those artistes, who decided to float their record outfits, are not finding it easy because it is not an easy venture. It is better to be under an umbrella than to brave the storm. I believe it is still ideal for me as an artiste to be under a big umbrella than to be under the rain and get wet.
Some say that Kennis music is ripping off artistes, what is your view or experience on this?
God is the source of my success in life because with Him all things are possible. You know people can be so selfish, that's why Tuface said in one of his songs, If to say na just me I will be doing any how.
It's not your talent to sing or rap that makes you an artiste, but if nobody takes notice of what you are doing, it means you are a noisemaker. I think it is ideal to get compensated for promoting an artiste's job. Lack of mutual understanding between some of our artistes and our record label is the problem, not the label. Primetime Entertainment is my management team, which is different from Kennis Music, my record label.
People make assumption. If they think it is easy to promote an artiste, they should pick an artiste to the studio, record the song and shut the video. Do you know it takes over N1million to shoot a video in Nigeria? Again, you will still buy costume and other requirements for the video. A video session is over N15,000. You will pay the producer, engineer and might even pay over N1,000,000 for a song that you haven't mixed and mastered. Then, you will duplicate the song in not less than 2,000 copies and you will pay over N1.2m on the artistes for a song. In fact, after spending over N5m on an artiste, you will understand what I'm talking about. So, how are you using the artistes to enrich yourself?
How can piracy be eradicated?
I believe that the public has a greater role to play in the issue of eradicating or reducing piracy because if people don't buy, pirates will repent. I think we have conscience, so it's a sin before man and God to kill someone's effort.
Any collaboration in your new album?
Yes! I featured Timaya in my remix track, Kalangolo, Femi popularly known as Mr. Americana and Jaywon in the track entitled, Reason for love. I featured K-Solo an additional vocals in Hold Your Heart and additional vocal by Tony (diamonds) in the track entitled, Halleluyah. I also featured Rasta by Nature & Dj Vinnie in Ladies n Gentlemen, and a very talented female artiste, Nyore in the track entitled, Ready Am Fire.
What is your relationship with Kenny St. Brown?
She is my big sister, my friend and a mentor. I did the first colouration in her song, Heaven Came Down that actually made wave.
Which scandal would you say kept you off balance?
There is this new one they are still talking about not just in the music industry but also in Nollywood about female artistes involved in lesbianism. It is so irritating. If they see you talking to male colleagues or having a ride with them, they will raise eyebrow. If you are with your female colleagues, they will still gossip. They should take their minds to the dry cleaners and renew them. As far as I'm concerned, we are creative people and we need people around to exchange ideas.
There is a recent rumour around town that you are dating Paul Play Dairo?
I did back-ups for a lot of people including Paul Play Dairo even before he was known as Paul Play. Then, he was in a group called Oxygen Even Slam. George and Tony Tonaro who are deceased, were in the group. If you pick up Paul Play's first album, you will see me as his back-up artiste. I'm not dating him, we are just friend. I haven't even seen Paul Play for some years now and we are living in Lagos. So, I don't know where or how the rumour generated. It is not my business because I believe in truth.
Who is the lucky man in your life?
At every time in a woman's life, there is somebody, but it depends on whether he is the right man or not. But I have someone.
Tell us about him
No way! I don't mix my private life with my career. What I do as an artiste is quite different from my personal life. I try not to mix them up otherwise, there will be problem. Essence is a public figure and Uwale is another person that will get married someday and raise kids
What is your kind of man?
He must be God-fearing and faithful. He must be someone who is ready to encourage me in my career because any man who is not ready to accept me for what I am doing and for who I am, does not love me.
Assess the Nigeria's music industry
Nigeria's music industry has actually grown to the extent that Nigerians now prefer listening and dancing to our local music. Indeed, this is very encouraging to musicians.