Basket mouth voted number two comedian in Africa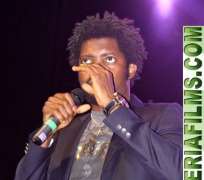 Mr Okpocha Bright, a.k.a Basket Mouth, has been busy junketing around the world instead of devoting his time and resources to making Nigerians laugh. In what seems like a deliberate design, the talented stand-up comedian has actually been spending more time abroad than in Nigeria.
But such fly-by-night trips have not been in vain. Sources close to the comedian told Life and Beat that he was recently voted second best comedian in Africa by MNET's Studio 53 Extra.
So far the comedian has been on several tours all around the western world, effortlessly breaking into the mainstream comedy scenes. Recently he performed alongside Gina Yashere of Def Comedy Jam in Long Island, New York before moving on to feature in Kojo's comedy show in London.
Also Basket mouth performed during the famous Blues Room Comedy Show and at the Rhodes Comedy Nite, both of them in South Africa, and will perform in Atlanta and some other major cities in the United States of America.
Meanwhile Basketmouth has rescheduled the second of edition of his prime comedy concert, Lords of Ribs, following the success of the maiden edition in London. The show has been fixed for October 10, 2010. This time, comedians from different parts of the world, including Gina Yashere, Trevor Noah, David Kau, Kevin J, Eddie Kadi, Ali Baba, Okey bakassi, Bovi and Gordons.
Music artistes billed for the concerts include Tuface,MI,jessy jagz,banky W,Dare art Alade,Terry G and BEZ. Basketmouth,who will be the host of the show, has promised a fun packed event