Impeach Jang Now; Group Appeals To Plateau Assembly Lawmakers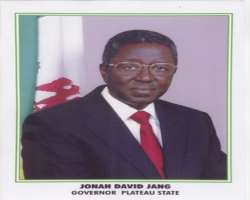 PHOTO: PLATEAU STATE GOVERNOR, MR JONAH DAVID JANG.

JOS, August 26, (THEWILL) – Legislators of the Plateau State House of Assembly have been called upon to impeach the Governor of Plateau State, Mr. Jonah David Jang for committing several impeachable offences.
In a statement released by The Movement for the Emancipation of New Plateau (MENP), the group commended the Plateau lawmakers for their resolve to bring the governor to order in spite of hoodlums who invaded the sitting of the House, to prevent the legislators from caring out their constitutional duties.
In a statement signed by Mr. Peter Dalyop and Mr. Innocent Gogwim, Chairman and Secretary respectively, the organization assured the lawmakers that Plateau people were fully in support of their rare display of courage and patriotism.
They decried the sponsor of violence by government as a sad commentary on how governance has degenerated in the state.
They cited the dissolution of chiefdoms and districts areas created without due recourse to laid down procedures, the closure of the plateau State University, the outright theft of local government funds and the unending crisis as some of the untold hardships the Jang administration has brought to the state.
MENP encouraged the lawmakers to check the cascading decline to a lawless society, and give Plateau people who voted them the needed relief by impeaching Governor Jang.
The statement called on the members not to be discouraged by the "brigandage" attitude of the Plateau State government, urging youths not to be used to cause the breakdown of law and order.
David Jang has faced criticism for his style of leadership, including his unending and bitter face off with his deputy, Mrs. Pauline Tallen.