Acting has always fascinated me –Jude Orhorha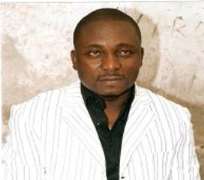 Jude Orhorha is a talented actor and producer. In this interview with BUSOLA FATUNKE, the graduate of Dramatic Art from the Obafemi Awolowo University speaks on his journey into acting, his challenges and future plans.
How was your growing up like?
My growing up was okay; it was not bad.
I grew up with my mum and dad before they were separated. I grew up under strict tutelage of my mother, because she was a teacher before she retired. So practically I grew up under the care of my mum, you can imagine what it takes growing up under a school teacher. So you have to be very disciplined, and I guess that is what makes somebody from a good home.
What fond memories of childhood do you have?
When I was young, then still in primary school, I met Uncle Lai Ashadele, with Lakunle who played the headmaster. I also remember meeting the late Uncle Jolayode, Garuba Ada. I was a kid when I started acting. Then I had not thought of becoming an actor, I was just a normal kid, growing up, going to school, reading my books.
When I met these people in real life, it made me feel that, 'so I can really see these people in real life'. It was way back in the 1970s. I met Uncle Jolayode, Lai Ashadele, Norbert Young; I will never forget them. After my primary school, I went to secondary school and I made up my mind that one day I would become a producer.
Did you see yourself acting from childhood?
Doing the normal play I will say yes, but not as a career because way back then we normally do the husband and wife play like 'you play the wife, you cook this, you cook that'. I never took it seriously until I got to secondary school.
Tell us about your family background and educational background?
I come from a polygamous family. Sorry we don't count children but we are many. Like the average Nigerian family, not too rich and not poor either. I'm from Warri in Delta State. My dad is late while my mum is still alive. I'm the seventh and I have six siblings after me. I did my primary school at Centagus Maryland, St Peter and Paul, Shomolu. So when my mum moved to Maryland I went to Maryland Gillian Comprehensive High School. I also attended of the University of Lagos (UNILAG) that was in 1987 before I left for the Obafemi Awolowo University (OAU) where I studied Dramatic Art.
Who are the people you look up to in the industry?
They are foreign actors anyway like Romeo Delero, Christopher Muffin. Those are my mentors.
How long have you been acting?
I started as a professional actor in 1987, and I was 17 years old then, now I'm 40 years old. I was born on February 5, 1970.
Some artistes are believed to be rich with the roles they play. Are you?
It depends on your lifestyle, it depends on how you participate in the movies and it depends on how you are spending your money. In Nigeria, most actors and actresses want to live and act like professionals in the public, even if it is beyond them. So you can imagine somebody looking for money in one movie. Between you and I, we have not started making money from acting in Nigeria because one movie alone worths between N15 and N20 million. Which actor in Nigeria will you point to right now who will say for this film I was paid N10 million? It is not possible.
What prospect has acting brought to you?
Before I became popular, there were places that I could even step into. Before I came popular, there were things I could not even do. But now that I'm popular, I can proudly walk into a company and use my influence to get what I desire, not for my benefit, but for the benefit of the society. In acting, what we do is to teach our own side of the world to the public. And we also give back to the society in terms of charity organisation, favour in terms of helping the needy. So my acting has given me a lot of credibility and I also watch what I do in the public.
What are you doing presently outside the industry?
I cannot even imagine myself doing anything outside the industry. I don't think there is anything I want in marketing if not something that pertains to the industry as well.
If you didn't go into acting what would you have done?
Maybe I will go into dancing. This is still within the entertainment industry, or I will be writing script because what I do basically is not acting alone, I dabble into make-up, for weddings and I also do MC for all occasions.
Are you married?
Yes of course. I did my traditional wedding in 2005 and I did my church wedding in 2007 as an African and a Nigerian man.
How and where did you meet your spouse?
Everybody knows her, she's also an actress, we met on location, that was in 1995. There is a programme called Family Ties, there is a woman that got married to Femi Branaid and got pregnant, she delivered and she was in the prison. Her name is Efe Orhorha.
What are your plans for the future?
Anywhere the wind carries me, I will go. But that doesn't mean I don't have a plan or focus to be an actor. When I was young and was watching television, seeing people acting then I always say I wanted to be like them. Now I pray to God that I should be in position to help people in need.
What kind of sports do you like?
I love to play Chess. I used to play Basket Ball but I do not have height for it. But I like Chess a lot because it is challenging.
What advice do you have for the upcoming artistes?
It is not easy, they should be very patient and they should be able to endure because they are going to face a lot of challenges ahead.
What will you say to your fans?
I thank una for watching me o. P lease continue to watch me and God will continue to replenish your pocket from where you take the money to buy our movies. God will bless you all.