I'M FORTUNATE TO MARRY AYO MOGAJI—HUBBY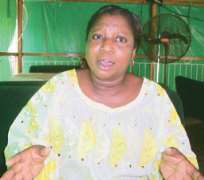 Dr. Ayodele Oduleye, the husband of star actress, Binta Ayo Mogaji, spoke with Entertainment Cafe about how they met, and other issues
Q: Where have you been after the Nikai with Ayo Mogaji?
A: I have been around for a couple of months precisely, since February.
Q: What have you been doing abroad?
A: I worked in America for three years as a psychoanalyst. I later moved to London.
Q: Can you tell us briefly how you met Ayo Mogaji and the current love relationship between you?
A: We met as far back as 1977 as school mates here in Lagos. Then, it was like a teenagers' relationship that wasn't taken seriously.
Q: Were you married then?
A: No, I had never been married.
Q: Why?
A: I don't know. It's just that I did not find the right person.
Q: So, how and when did it dawn on you that she's the right person for you to marry?
A: Before I left Nigeria, she was the only woman I had a very serious relationship with and she has always been on my mind. Even my parents met her then and knew her very well. Each time they called me, they would always remind me that I am getting old and ask when I will get married?
Q: How old are you now?
A: I am close to 50.
Q: Have you had kids before?
A: Yes, I have a set of twins - two boys. But it was not a serious relationship and I was not even expecting a child from the relationship I had then. And when she was pregnant, I could not advise her to abort the pregnancy.
Q: How do you intend to cope with marrying a popular actress?
A: Marrying an actress is not an issue because I am an 'actor' too.
Q: How?
A: Not really but when you say actor/actress is like you are professional. So, to me, the idea of marrying an actress does not turn me off.
Q: But do you really feel comfortable with the marriage?
A: Yes. I understand that her fans need to acknowledge her wherever she goes.
Q: Being perceived as a controversial actress, don't you have fears that her status might affect you?
A: If there's anything that surprises me now, it is not the character she portrays in movies because she has always remained the simple Binta Ayo-Mogaji I have known for long. In fact, she is even a more mature person now.
Q: Are you really settling down here or you want to shuttle between Nigeria and England?
A: No, I am still based in London because my business is based there.
Q: That means you are not still set to marry her or do you want to be a visiting husband?
A: No, I am taking her along with me.
Q: So both of you are going to settle down in London?
A: Yes.
Q: So, what happens to her career?
A: There are lots of actors and actresses in London and they can always feel comfortable working with her. Moreso, we have both agreed on that.
Q: What if she needs to feature in a film here in Nigeria?
A: Well, it's not very expensive to travel down here. So, she can always meet the demand.
Q: What attracted you to her in the first instance and can we still call it genuine love?
A: I don't think there is anything more than that. It is pure love. She is always on my mind even when I was still living without her.
Q: But she has a baby?
A: Yes, she has a child and I also have a set of twins.
Q: Did you still communicate with her when she had the baby?
A: Let me just say I am fortunate because the saying that "one man's regret is another man's blessing," has marked out well for me.
Q: When is the wedding coming up?
A: We don't want to disclose that yet.