BANTU RECEIVES AFRICA FESTIVAL AWARD 2007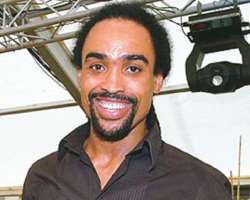 Germany-based Nigerian international musician and Kora Award winner, Ade Bantu, has done it again. This time, he has been awarded the Africa Festival Award 2007. He received the award recently at the 19th edition of Europe's biggest festival of African music, Africa Festival, which held at Wurzburg, Germany.
The Africa Festival Award is given to outstanding musicians, artistes, personalities and institutions committed to promoting Africa and its culture in a four-day annual bazaar.
Approximately 80,000 visitors attended the biggest festival of African culture and music, and just about 250 musicians performed in the 19th Africa Festival. The festival was concluded with a day against racism on which 1000 black and white balloons were released into the air.
The high point of the festival was the presentation of the Africa Festival Award to Ade Bantu. And with the award, Bantu joins past recipients, which include Manu Dibango, Angelique Kidjo, Miriam Makeba and Daara J as stellar personalities who have promoted the African culture through their various works.
This recognition can't be unconnected to Adé Bantu's songs that links the personal with the political; and his Afro-German NGO and musical band, Brothers Keepers, which made it to the top of the German pop charts with their uncompromising statement against racism.
The obviously excited Bantu believes that his award is just a starting point. He is still going to take his music to greater heights.