Fashola Sacks Two From Cabinet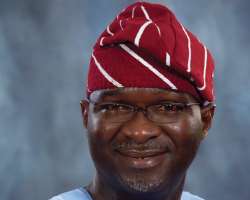 PHOTO: LAGOS STATE GOVERNOR BABATUNDE RAJI FASHOLA, SAN.

LAGOS, August 23, (THEWILL) - Lagos State Governor, Mr. Babatunde Raji Fashola today dropped two members of the State Executive Council with immediate effect, hinging the decision on the need for the duo to pursue their political aspirations.
The state Commissioner for Information and Strategy, Comrade Opeyemi Bamidele made this disclosure today at a briefing held in Bagauda Kalto Press Centre, Alausa.
Speaking at the briefing, Bamidele named Commissioner for Agriculture and Cooperatives, Chief Enoch Ajiboso and Special Adviser on Environment, Honourable Sesan Olanrewaju as the affected members.
The commissioner said the decision to drop the cabinet members was not due to poor performance but rather hinged on the need for them to pursue their political ambition at another level.
"A minor cabinet reshuffle has been carried out. The exercise affects two members of the state council, both whom have served meritoriously since the administration has been in power.
"The exercise affected Commissioner for Agriculture and Cooperative, Chief Enock Ajiboso and Special Adviser on Environment, Honourable Sesan Olanrewaju. The administration of Governor Babatunde Raji Fashola expressed gratitude to the affected cabinet members," Bamidele said.
The commissioner did not name replacements for the duo, but acknowledged that Mr. Fashola "has discretion to make the new appointments. The issue of who serves, who continues to serve and who seizes to serve is the discretion of the governor."
Bamidele said the exercise was not unusual and had nothing to do with non-performance.
Before he joined the Fashola administration, Ajiboso was the erstwhile Chairman of Agege Local Government while Olanrewaju also served as a two-term Chairman of Somolu Local Government before he was appointed Special Adviser on Environment under the administration of Governor Fashola.