EXCLUSIVE: NOLLYWOOD DIVA, OGE OKOYE TALKS ABOUT MOTHERHOOD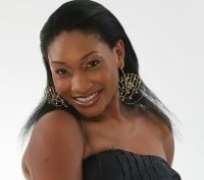 The sultry actress, Oge Okoye who is married to the international bizman, Stanley Duru has just put to bed. The leggy queen of screen, Oge was delivered of a bundle of joy at the Queen Elizabeth Hospital, London. She left the country shortly after she was few months gone and may be returning back to the country with 'Bigie Bigie Bouncing Baby' by the time you finish reading this. She exclusively had a telephone conversation with ALONGE MICHAEL last where she talked about her joyful moments, motherhood and other issues. Excerpts
WHY HAVE YOU CHOSEN LONDON TO DELIVER YOUR BABY?
I feel more at ease in London than any other country. Don't forget that I was born here too.
HOW DO YOU FEEL NOW THAT YOU'RE BLESSED WITH A BOY AND A GIRL?
I am so happy and thankful to almighty God for making me a complete woman. You know, the joy of every mother is to have a baby boy and a baby girl. Though, some parents love to attach importance to a particular gender, in our own case, we first had a boy and now a girl, we wouldn't have wished for more. I feel great.
HOW DO YOU INTEND TO COPE WITH THE PRESSURE OF RAISING TWO KIDS CONSIDERING YOUR CAREER AS AN ACTRESS?
That's not an issue at all. When I had my first baby, I got a lot of help from my mum and my domestic staff too. I never allowed the movie thing to affect the mother-child relationship between us. I was always come back early to make sure he was okay, though, my mum was around to look after him till he became a big boy.
HOW SOON DO YOU INTEND TO GO BACK ON SCREEN?
In fact, I can't wait to go back. Before I finally left the country for my ante natal in London, I had more than 9 scripts in my shelves, I was hoping I could do the movie before I left but it wasn't too easy for me. Some of the movies have been shot now while some producers insisted that I just have to come play my role as soon as I deliver. So, now that I have successfully delivered, I don't have a choice than to hit the movie location as soon as possible. You know, movie to me is not about money, it's more of a passion and fulfillment.
HOW MANY CHILDREN DO YOU WISH TO HAVE MORE?
The number of children I wish to have depends on the number of children our God has for us. If He says 10, who am I to say no. Our God has the final answer to that.
HOW DOES STANLEY FEEL ABOUT THE NEW DEVELOPMENT?
How else do you want him to feel? Happy of course! He's extremely happy and can't stop thanking God for taking us this far. He's our pillar and refuge.
WAS HE BY YOUR SIDE DURING LABOUR?
That's personal to me. My fans do not have to know if he was by my side or not, the fact remain that, he's with me all the time, there shouldn't be any special occasion that should take that glory, he's with me all the times.
WHERE ARE YOU HAVING THE BABY'S CHRISTENING?
There is nothing like home o my brother, we are coming to Nigeria for the baby christening. When the time comes we will invite friends and fans to come and felicitate with us.