MY MUM SAVED MY MARRIAGE –NGOZI UFODIKE, MD BORDERS PLUS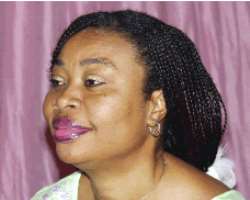 Ngozi Ufodike is the Managing Consultant, Borders Plus, a leading and thriving travelling consultancy agency. She can be described best as a woman with golden heart, a philantropist and very hardworking. She has proved over time that what a man can do, she could do better by daring a course that women runs away from. In this interview with Saturday Sun, she spoke on her experiences as the only female in the world of men, her challenges in her first year of marriage and other issues.
What is your family background like?
I am from Enugu State and married to Nnewi, in Anambra State. I grew up in Enugu. My father was a catechist in Catholic Church. The family is made up of six girls and two boys. I happend to be a twin with a boy. We have three girls before us and two girls and a boy after us. So, we are actually in the middle. I had my education in Enugu. I attended Zik Avenue Primary School, Queens Secondary School, and Enugu State University of Science and Technology (ESUT), respectively. I read Brewery Engineering.
What is the connection between Brewery and immigration?
I don't know. It was curiosity that made me pick that course. I am science incline. And when I entered the University, I noticed I entered into a combined department, food technology and brewery engineering under one department. All the women gravitated towards the food and technology while the guys went to brewery. I told myself that I was going to break that jinx. With that curiosity, I opted for Brewery Engineering. Surprisingly, when I graduated in 1987 and had my industrial trainings with Guinness and Nigerian Brewery, Iganmu, Lagos, in between, I was the only female brewer with lots of operators and technicians all those periods. When I graduated, I did my youth service in Nigerian Breweries, Kaduna. Again, I was also the only female brewer there. It was not a good experience because I was naive. I graduated at the age of 20. I was so inexperienced. From nowhere, I dropped in a man's terrain. After my youth service, I told my elder sister that I was not going to work there. Many men were calling my extension but I did not understand male-female relationship and I wasn't diplomatic. So, I ran from that industry and entered into immigration.
What was your growing up like?
We used to think that my father was mean because when a man has six daughters, his eyes has to be open. Moreover, we are beautiful daughters. We are all light complexioned and intelligent. He didn't have a dog but he made sure that we crammed our whole lives out. From primary school, we were cramming one thing or the other. For instance, I learnt to draw the map of the world at the age of 7 and knowing all the countries of the world and their capitals before I got to primary six. In my family, you would have to learn Geography and History concurrently from primary school. My father was just a standard six holder but the quality of education then was something else. While growing, all I did was going to the Catholic Church and cramming. We had no friends because if any of our friends visits us, my father would give that person something to cram. And I bet, that person would not repeat that visit again.
Were you trained as an Immigration Officer?
It was more of informal. Doing visa and passports came naturally. I am an out-going and vibrant person. Two of my sisters work in the airline, so it helped me. When I came out from the brewery, I started getting contacts from immigration and embassies and I was able to do passports and visas. The travel industry also came at that stage and I kicked off.
Who are your clients?
We work for Motorola, Nokia, Noble drilling, Phoenix tide, T.A logistics, Accord Logistics, Ernst and Young, based in London, etc. There are some other companies and lawyers. In Nigeria, most companies give their jobs to lawyers but lawyers are not trained in the act of immigration work. So, most of our clients are lawyers that get these jobs from other companies and sublet to us. These are just few of the companies that we work for.
Have you had a situation where you failed to secure visas for your clients?
I know the industry inside out. Before I go into any venture, I would assist in collation of your documents and submission. The visa approval is prerogative of the issuing authorities. And they don't owe any explanation while visas are given or denied. But what we do is to guide and make sure that you have all the genuine documents for processing of visas for outside countries. But for the expatriates, getting Nigerian visa is not a hard task because they are denied Nigerian work permit.
What are the challenges of the business?
I can't think of any challenge. The only challenge I have is within.The business is like going to the hospital and refusing to tell the doctor the symptoms of what you have. It is from the symptoms that he would diagnose. When you get a client and he says no, we are doing it internally, how would you be able to convince him or her to give it to a consultant? If you don't know the benefit of giving the job to consultants, you won't be able to convince anyone.
How do you combine the job with home front?
God is on my side and I understand the role of a woman. The Bible tells me that my primary role is my home. Outside salvation, the best thing that happened to me is my husband. He is a minister of God who understands his role and I understand mine too. We compliment each other and I submit wholly to him in whatever whether I am comfortable with it or not. I submit to him because the Bible tells me to submit to him as unto God. And if I see him as God in my life, then God directs my path. My home comes first, and then Borders Plus, second. Each of them doesn't crash because I plan them out in a way that they don't crash. When there is peace in my home, then my office can prosper. If I have stress in my home, there will be no way I would be able to train my personnel and to communicate with my clients effectively.
Aside Borders Plus, what else do you do?
The only thing I do is evangelism. I do the work of God.
Do you have joint account with your husband?
He is signatory to all accounts Borders Plus has. The Bible says that two have become one, so I don't keep anything from him. Every money that enters Borders Plus, he knows.
Do you take permission from him before you get something for yourself?
Of course, I do because I am under authority and he is the first authority.
Where did you meet him?
I met him on August 29, 2004. He came to my house with one of his friends who happened to be my friend. I just finished taking shower, so I was in the bedroom and they were outside. I just heard a voice. He has this guttural voice and that was it. I said I needed to see the owner of that voice. From then, things were never the same.
Was it just the voice that attracted you?
Yes, it was. Although he is a very tall, handsome and talented guy, it was the voice that did the magic.
What is your philosophy of life?
My philosophy of life is that my life is a sermon. Everything I do, outside the fact that God watches, people are reading me as they read the Bible. I don't need to carry the Bible to preach salvation gospel to anyone. My life is the one preaching it. Even in my place of work, I do things that when people look at it, they would say that of a truth, this is a child of God. Anything worth doing is worth doing extremely well.
What turns you on and off?
I won't tell you honesty or integrity. What I like is exterior look and neat personality. What turns me on is the beauty that comprises the inner beauty and the outward beauty. I have seen people that married a woman because of her beauty and comes back after a while to say that she is a witch. Then my turn-off is people that have reached their intellectual menopause.
Was there any advice you got from your mother that helped you in life?
I had some misunderstanding with my husband in my first year of marriage. I was crying and I called my mother and told her that I was tired of the relationship. My mum told me that the woman determines the life span of a marriage. The moment a woman says that she is tired, that is the end of the marriage. But if your endurance level is high, that is how far your marriage would go. Never say I am tired rather say I am opting out of a marriage. My mother also told me that hard work is a pillow in which a woman rests. No woman should be a housewife. She tells me that every woman can do something. The virtuous woman in the Bible is not a lazy woman. Every woman should find something to do within the environment she finds herself. That is my mother's motto.
What is your most memorable day?
It was in August 2006, the day I met with the Lord. I met my husband and the two of us gave our lives to Christ the same day. It was just God's beauty. That day, I wept when I came to the knowledge of what the message of the cross meant. I was happy that I was alive to witness that day. What if I had died earlier, where would I have spent eternity? So, I always ask people where they would spend eternity, whether in heaven or hell because salvation is a personal race.
What was your most embarrassing moment?
It was at the middle of Balogun market. I wore a wig for the first time and the wig fell off. The traders were calling and telling me that the wig had fallen off. I was asking myself what could have fallen off and I discovered it was my supposed hair that fell. I didn't know whether to bend down to pick it or to pretend it wasn't mine. Eventually, I picked it and put it back and went on my way.
At what point would you say that you had a turning point in life?
I had a turning point when I started working for myself. It gave me time to really serve my husband, the Lord and to fulfill a hobby, which is immigration work. So, I can actually tell you that I am in control of my time. I have time for my ministry. I give it the needed attention and I make money doing my hobby.
What could be the reason marriages break up?
When I counsel women, I tell them that God hates divorce. Some would ask me, what if the man pushes you out? If he pushes you out, you go but what made him push you? I remember when my husband was courting me; I looked forward to his coming. I would tidy up my home and make the environment befitting because I was expecting a king. How many women see their husbands as kings. How many women prepare for the entrance of that king now? We take a lot of things for granted. We talk about the strange woman taking over our home. Ask yourself what the strange woman is giving him that you are not. Some of us at home tie wrapper but when the man was courting you, when you know he is coming, you make up. There are still women that make up at night because they are still expecting their sweetheart.
But at home now, some look untidy because they have taken the man for granted. And a strange woman is somewhere preparing his food. A lot of career women leave the home before the day breaks and comes back very late and the housegirl takes care of the home-front. How many of us still remember to unlace his shoes and ties? Those are the small things. How many of us still eat on the dining table with our husbands? My husband like formula one. I did not know what it was until I met him. I had to take interest in his sport so that on Saturdays, when he sits to watch, and he asks questions, I would be able to respond. I picked interest in his interest. That way, I am not just his wife; I am his best friend and companion. We do things together. So, why won't marriage work. It is that compatibility that melts away gradually without us knowing it that causes divorce.
Do you think that women should go into politics?
I am not gender specific. Mine is that anybody that is capable of doing it should do it. Look at the German President, Hillary Clinton, Sarah Pauline, the Republican running mate, Winnie Mandela, Mandela's current wife, Okonjo Iweala and Dora Akunyili. These are women that have what it takes to rule their domain. It doesn't have to do with gender. It has to do with the inner capability of that individual. We should just stop deceiving ourselves. We should not allow the society to suppress us because we are women. What you have speaks for you. Gender is not a barrier. We are our own barriers because women find it difficult to come out in the forefront. We always take the back roll. Women are not inferior to men. It is the society that tells them that they are the weaker sexes. Women might be weaker physically but emotionally they are stronger. Remember that behind every successful man, there is an intelligent woman. For every man that prospers, look at the wife and for every man that fails, look at the wife too. The earlier women come out from their shell, the better for us. I think it is time to take the bull by the horn.