BUT FOR MY DAD, I WOULD HAVE BEEN GANGSTER DAD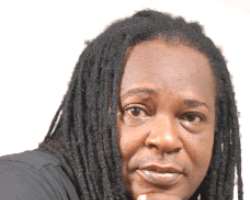 Oritz Pupa Wiliki
Oritz Pupa Wiliki does not need any introduction. He took the world by storm when he released his debut album, 'Giv e me little time to fight the fire,' in 1989. Since then, he has never looked back.
At the age of eight, when most kids are still hiding behind their parents, he had started romancing musical instruments. With this consciousness, it did not take him long to take his place in the reggae music scene, where he has held sway over the years.
Speaking with Saturday Sun, Wiliki, who hails from Delta State, revealed everything about his life and career.
For quite sometime now, you seem to have been on the quiet side. What has been happening?
I have not been on the quiet side. It is just work pressure. I have always been in my studio doing my business. For instance, this interview would have been done about two weeks ago, but we could not because I hardly had time for myself. So, that is to say that I am a busy person.
Talking about music, what actually inspired you into reggae?
I would say it is the society and also my father, Rev. J. I. Wiliki. He was a Baptist reverend. As a missionary, he was always organising campaign rallies and crusades from town to towns for Christ, which I enjoyed. This development eventually inspired me to be a crusader too though differently. Music became my own medium of reaching out to my people. The second effect is that I hate poverty and oppression. That is people oppressing people. What I love is nature. I am a Pan-Africanist and as such, anything that is anti-blackism, I would fight it to the last. That is why you see all these present in the content of my lyrics over the years. All these set me going. Moreover, I have also done some social jobs. I am the first person to write song on HIV/AIDS and move a serving health minister then the late Prof. Olikoye Ransom-Kuti to the studio to make a policy statement on the song called 'One Drop.' I was also the first composer and producer of the theme song for the FIFA World Youth Championship held in Nigeria in 1999. I also did the same thing for Gateway games and others.
Is your real name Oritz Wiliki?
It is my real name. Wiliki is my surname and Oritz, my name. Oritz is abbreviated from the name Oritsebemigho.
Where are you from?
I am naturally from almost every part of Nigeria, if you would permit me to say. I have my mother coming from Edo and partly Owo, in Ondo. My father is from Itsekiri, in Delta, while my grandfather is partly from Ethiopia. And my maternal mother is an Izon. So, you can see that I am well linked. That is why I said I have a complex origin.
When and how did your music career start?
It started as early as when I was eight years old. My father being a very good musician was always encouraging us to join the church choir. That was how I joined the Baptist choir and rose to become the leader. Thereafter, I decided to take it professionally about 20 years ago.
What was your first stage experience like?
It was very exciting, because I didn't start playing as Oritz Wiliki. We started out by sectioning, playing instrument and backing other musicians. Then I used to play drums, keyboard and the horns. So, by sectioning and backing other musical artistes, I began to develop the art of writing songs and knowing much about music. Let me say, with all sense of humility, that there is hardly any meaningful artiste in this country that has not had a bit of me. Great artistes, like Majek Fashek, Ras Kimono, Mandators, Alex O, Black 7, and host of others have felt me. You would always see my name at the back of the slip doing one thing or the other, before I started releasing my own in 1989.
I have been a father in the business. I would say I have been behind making stars before my stardom. Then there used to be a great cooperation. The difference now is that we are now in digital age where one man can sit in the studio and do what everybody else would have done. As for me, that is not advisable for a professional because there is the need for him to allow experienced hands to have an input in a project. A project carried out by one person would, no doubt, suffer lapses. The input of other people makes the excitement beautiful. The major reason people are not collaborating these days is because of funding. They don't have the money to pay professional artistes for their professional touch because of their small budget. It is only a few people that are doing that now, whereas it is the international practice.
You are involved in reggae activism. What effect has it created?
I think you should have asked what the society would have been if we were not there to cry. It is like today you see so many churches everywhere and you say upon all the churches there are still extreme corruption in the society. The question is, how it would have been if there were no churches at all. Maybe by now, we would have turned to barbarians and cannibalistic human beings, eating one another. So the effect of what we have said and still saying is having a great impact in the conscience of the people. That is why they are slowing down from the decadence they wanted to turn the society into. If you are a politician, for instance, and you wanted to steal big money but because people have talked about it, it would certainly prick your conscience. It would hit you that it is not every time you steal and go free. So, the role of a musician is to serve as a watchdog to the government. If they do well, we would praise them. But if, the other way, we would cry on their head.
Your songs are always prophetic. What inspires you to write?
The truth is that you don't have to write when you are not inspired. I always aim to write songs that would stand the test of time because life itself is a circle. There is nothing that is happening that we have not talked about. There is nothing that you are seeing now that Fela did not sing about. These are the things he talked about long time ago. It is like foreseeing the future. So, for you to be relevant, do songs that are highly inspired so that the test of time would make it relevant. It would prompt people to go back and listen to them again. So, for the true musicians, we are like masquerades and vessels of messages. For some of us, we are doing it because it is a calling, even without knowing the impact it is going to have. Therefore, we must continue to make songs that are edifying and sensible even in 50 years time. That is, a song that is good for the archives.
In the 80s and 90s, reggae was the dominant genre in the Nigerian musical scene. But in recent time, it has been in the cooler. What do you think is responsible?
I don't agree with you because reggae is up there in the sky. What you may say is that the genre of reggae has evolved over the years. Hip-hop is an offshoot of reggae. Probably, if Bob Marley were to be alive today, maybe he would not have been playing the root rock traditional reggae he was playing. So, reggae has evolved from style to the root rock. From there to lovers, rumba dub, raga, dance hall and now hip-hop. Therefore, the essential ingredient of what you hear in today's hardcore hip-hop is reggae. If you remove the bass and the drum, it is reggae. It is only laced with what we called the culture of hip-hop.
In the past, to become a star takes a process. But today, stars are made everyday. How come?
Honestly, the media are behind the stars being made today. They have a way of influencing the people. About four years ago, it was already becoming offensive to our sensibilities, as everything you hear on our radios was makosa music. That is the like of Awilo Logomba and the rest. Even the church choirs started playing it. There was no hotel around you don't find makosa band playing. It became the Nigerian music. The truth is that people became related with it because it was common on our airwaves. It eventually influenced everybody and even the gospel artistes started having its adaptations. So, it is the same thing with modern stars of hip-hop.
If all the stations stopped playing hip-hop for highlife, you would see that it would become the main focus in the next five years or more. It means that we react to what the media feed us with. In our time, it was reggae all the way on our airwaves and that was why everybody wanted to do reggae. So, since it is hip-hop they are hearing everyday, they have no other alternative than to respond to it. I do believe that reggae is going to come back stronger very soon. It was the exit of Majek Fashek, Ras Kimono, Alexito and some of us that created the vacuum in the industry at the time. Some of us migrated abroad and the seat became vacant. And the people were in need of fresh stars to fill the gap. So, those who came out at the time automatically became a star.
How successful is Oritz Wiliki financially?
Well, based on the level of what I have released and the technical depth of what I know in music, I can tell you that I am a potential billionaire. It is just a matter of time. Bob Marley died with less than four million pounds in his account. But five or six years ago, his estate alone, from April to April, was seven hundred and sixty million US dollars. It was just a collection of royalties alone. Also, before Fela died, people were abusing his estate. But today, it is worth millions. So, to some of us who know what we are doing, it is just a matter of time. That is not to say that we need to die before making such millions.
If you weigh Oritz Wiliki on a scale of preference and go to the civilised world to get his equivalent, I should be living on an Island. I don't have to release 10, 000 albums to get that money. I am supposed to be getting my cheque quarterly from the ones I have done. But because the system is not well structured, the reverse is the case. You labour while others get the benefits. That is why we are saying that the system must be liberalized for the benefit and interest of the artistes.
What was your growing up like?
It was tough. I grew up a road boy. I keep saying that if not for my father, I would have ended up a gangster. With my parents, I grew up with the right discipline. But like you know, boys must be boys. Growing up in different places didn't help matter too.
What culture of life did you imbibe from your parents?
Be kind and God fearing. Do things that are edifying and glorifying to God. I learnt that from my father. As for my mother, she said, 'Oritz, the world would always expect from you what they cannot give you. They would hurt you bitterly and expect you to forgive them by merely saying, 'I am sorry.' They would always demand from you.' That means, we must learn to see things the way they come base on the ethics of forgiveness.
Could you tell us about your family?
I have a small family. My wife's name is Becky and we are blessed with kids. As you know, Africans don't count their children. So, see me as a father of many nations.
How did you meet her?
We met on a business platform. I needed girls to work with and she happened to be one of those that came for audition. She was taken but that was not where the affair started. After working with me for so many years, I discovered that she was a good home material, somebody who is serious and focused. Eventually one thing led to another.
What was the attraction in the beginning?
Well, my attraction would always be intelligence, height and somebody who is God fearing. I love ladies with the right statistics. Once you have those ones I am moved.
What has marriage taught you in life?
It has taught me to be tolerant and that there are several houses but very few homes. In homes, people always celebrate and enjoy themselves. That is not to say that it is free of crisis. But it is the ability to manage this crisis that makes you a champion. So, in marriage, the key word is love and good communication. When there is enough love, tolerance is bound to be there. Then the sky is the limit. But if you cannot tolerate, it is going to crack. So, there are few homes but plenty houses.
Marriages have been crashing among celebrities in Nollywood. What do you think is the cause?
The major cause is ego. There can never be two captains in a ship. You can only have one captain and his assistant. People always say that behind every successful man there is a woman. Then what about every unsuccessful man? Do we say there is also a woman? Yes because the woman is the brain of the home. She makes the home. The man head is useless without the woman, who serves as the brain. It is the mechanism of a woman who knows when the husband is supposed to come back home. That is the woman who knows when food should be ready and what should be done the next day knowing her husband tight schedules. At the end of the day, she runs the affairs because the man is like a baby to her. But when all these are not there and the woman becomes egoistic and challenging the man's authority, the marriage is bound to go down.
What could weigh you down and move you close to tears?
Lies, dishonesty and disappointment. That is why I choose my friends with all my heart. So, I hate betrayals. If you checked the Bible, you would see that those who betrayed never had forgiveness, like Judas and the rest. It means that it is a very great sin to betray your friend or the trust given to you. So, betrayal, dishonesty and lies can actually weigh me down to a state of tears.
What ugly experience have you had with your female admirers?
I don't think I have had any. But I like them around me because of their brain and intelligence. When you have a lot of women around you, you are surrounded with potential ideas because they are the smartest. When a woman tells you, Dennis, I would make you, believe it. It is just a matter of time. But when a woman says I would ruin you, lie down and beg her because she would actually ruin you. So, when I have them around me, I always like to know the level of friendship that we have. Honestly, I have a lot of them as friends.