JONATHAN MUST CONTINUE TILL 2015, GROUP URGES NIGERIANS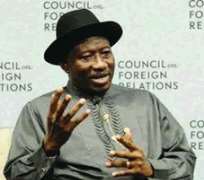 The Southern Progressive Youths of Nigeria, a socio-political group, led by Prince Odumegwu Oforkansi, has urged power brokers in the country to allow President Goodluck Jonathan to continue till 2015.
In a chat with Daily Sun in Lagos, Oforkansi said Jonathan should be given the mandate to complete the Yar'Adua/Goodluck joint ticket given to them in 2007 by the Peoples Democratic Party (PDP).
His words: 'The PDP before now declared that there was no vacancy in Aso Rock, that was when Yar'Adua was alive and that was Yar'Adua/Dr. Goodluck government. Then, they didn't talk because they were comfortable with it. Along the line, Yar'Adua died, it appears that they are no longer comfortable.
'The North is saying Dr. Jonathan should quit the government that he helped to build together with the late President Umaru Musa Yar'Adua. Now that Yar'Adua is not there, they are saying Jonathan should go away simply for them to bring another northerner. Is the presidency of this country hereditary? Are they saying that zoning is a dynasty? No, no, no. We disagree with it and it cannot happen.'
Oforkansi explained that all the people that mattered in the country should not see the presidency of Nigeria as an ethnic problem. Jonathan, he stressed, had the divine backing and qualities to fix the myriad of socio-political problems besetting the country.
'The South has paid the price for the unity of this country and it is their turn to pay the price. The price they should pay is that they have lost out. They should come back to the polity in 12 years time because after Yar'Adua/Goodluck ticket expires in 2015, it goes to the South-East. That is the PDP manifesto and that is the PDP constitution. It is rotation.
'We are supporting Jonathan, not because he's from the South. When it was the turn of the North to produce president in 2007, they brought out their own person and he was seconded by the South. So, the race kicked off. We blew the whistle and along the line, the leader died. The race must continue. The race must go to a conclusive end,' he said.
Oforkansi asserted that the recent declaration of former military president, General Ibarahim Badamosi Babangida and former vice president Atiku Abubakar to contest for the presidency in 2011 did not pose any threat to Jonathan. He expressed optimism that Jonathan would pick the ticket as the presidential candidate of the PDP at the forthcoming national convention of the party. He added that the Southern Progressive Youths would leave no stone unturned to ensure that President Jonathan continues in office till 2015.