Ture, some of my colleagues are wayward, says Mercy Aigbe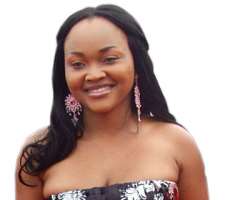 Nollywood star Mercy Aigbe's journey to stardom started in her her teens when she was in the primary school.
Known for her brilliance on stage, especially in the Yoruba genre of Nollywood, Mercy is one of the most sought after actress in the country today.
Getting her to talk was quite tough but when she finally opened up, it was an interesting encounter.
During this interview, she was constantly torn between attrending to her son who wouldnot stop crying and answering our questions. She talked and at the same time struggled to breast feed the baby.
She lets us into her world. Enjoy.
How does it feel to be back on your job after nine months of pregnancy?
( Laughter) First of all, it feels good to have 'off-loaded'. I thank God because it's not easy to have gone through the nine months. Now, I have a beautiful baby boy.
Now that your baby is out, what are the things you plan to do?
Now that I've given birth to my baby, my next focus is my job. Thank God that I'm back on location, doing what I love to do best. The last movie I shot before going on a maternity break, Afe Aye, was released last week. And very soon, I'll be going on location to shoot my own movie which will be bigger and better than Afe Aye. So for now, everything is going to be about my job.
Do you mean that acting is the only thing you do?
Acting isn't the only thing I'm good at. In future, I may try my hands on fashion and make-over . But for now, my focus is on my acting career.
You are from Edo State, why do you prefer roles in Yoruba movies over English movies?
It's true that I'm from Edo State but it isn't true that I prefer acting in Yoruba movies. As a professional, I feature in both English and Yoruba movies. It's just that I am more popular with the Yoruba movie industry.
Did you study Theatre Art?
Yes, I have a degree in Theatre Art from the University of Lagos. I graduated in 2001 and I joined the movie industry fully in 2006.
How was the journey into acting like for you?
For me, acting started since I was a kid. Then, my friends and I were always playing fake roles of a father and mother with kids. But I didn't know I'll come this far because I thought it was a child's play.
I was also in drama and dance groups during my primary and secondary schools days. It was after my secondary school education that I decided to go for Theatre Art.
And upon my graduation, I went for various auditions. But the particular audition that got me started was the one I went with Wemimo Olubo in Ibadan. I was given a major role in Ara which shot me into the limelight. After Ara, the rest is history.
What were the initial challenges you faced way back as an up-coming actress?
When I first started, I faced rejection in some quarters.
What kind of rejection are you talking about?
Rejection in the sense that everybody had his or her principles; there were certain things I could and couldn't take. And because I couldn't take some of the things thrown at me, I was rejected in some quarters
And what are some the things that were thrown at you, that you didn't like?
There were times when I would be asked to do things in a particular way but wouldn't be able to do it. So, it wasn't really easy for me because at times, I'd be chosen at auditions and would be dumped later for one reason or the other. It was really discouraging. This was one of the worst challenges I faced.
Another challenge was with the money paid to actors then. Before I got into acting, I had a thriving business which I had to abandon for acting. At the end of the day, after I had put so much effort into acting, I got paid peanuts. But with patience, perseverance and hard work, I was able to make it through.
Are you there yet in terms of career achievement?
No. This is just the beginning. I have a tall dream, when it comes to my career. And I know it's achievable with God and hard work.
How does your husband feel about you being an actress?
Some of my colleagues always ask how I cope with marriage considering the kind of job I do. And I say to them that God gave me my choice for a husband. So, everything is in place.
The man I married is awesome. He's one in a million and not like every other Nigerian man. He's understanding and tolerant and is in full support of my job. He actually met me as an actress. He knows that my job is what gives me happiness and he wouldn't want to take it away from me. So, I don't have a problem with him.
What's the ugliest incident you've experienced since you started your career as an actress?
I think the worst thing that happened was when I went on a location for five days and didn't get paid at the end of the shooting. And during the five days of shooting, I had no accommodation and so, I had to sleep in my car.
I thought accommodation are usually provided…
Back then, nobody knew me because I was an up-coming actress.
It was only the stars who were assigned to rooms. And since I couldn't share a room with anyone, and given the kind of environment I found myself, I had to sleep in my car.
And in the morning, I begged to shower in someone else's room. The odd thing was that I actually ended up playing the lead role in the movie. And at the end of the suffering, I got a little amount of money.
When I got home, I cried my eyes out, wondering for how long I would have to put up with such situation. It almost broke me down. But I thank God that I was strong enough to continue till today.
As a beautiful woman, how do you ward-off male admirers, especially now that you're married?
When it comes to advances from male admirers, I'm a professional and I know where to draw the line. I know when a male fan is going beyond his limit and I politely tell him off and let him know that I'm married.
Did you find it difficult convincing your parents before you were allowed to study Theatre Art?
The problem here is that the perception of people towards theatre artistes is not good enough. An in this matter actresses are worse off. A lot of people see us as promiscuous and never capable of settling down to make a good home.
But I actually don't blame those who think like that because some of us are actually 'loose'. But I advise that parents should not look only at the negative side of acting but to understand that some of us could be real role models for their children in the profession.
In the beginning, my father didn't support my career because he feared that actors are never successful and the ladies don't get married. He described actresses as prostitutes. So, it took a long while before I could make him believe in me.
And did your mother support you from the outset?
No, she took the same stance as my father. And with that kind of experience, I can imagine what some up-coming actors and actresses are going through.
Who are your role model?
Back then I loved Liz Benson because she is beautiful and good at acting. Before her I used to love Barbra Soki because of her command of English and the accent. Now, it's Mama G (Patience Ozorkwo), and Sola Shobowale. They play their roles well.
Is it acting till you die or are you planning to retire soon?
I can't say for now. I'll cross the bridge when I get there. But for now, it's acting.