I was raped as a teenager – Julius Agwu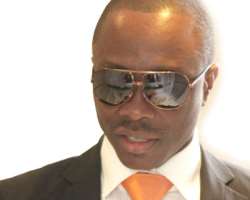 Julius Agwu needs no introduction. He is one of those who have made their mark in the entertainment industry.
For a comedian who made his debut in the 90's he's rating has soared since he ventured into music business.
He shares his experience as a 'village boy' and his exploits. It will blow your mind.
What was your perception of love while you were younger?
(Laughs) That's a tricky one but I like that. As a child, I grew up believing that my mum was the ideal representation of who my future wife should look like.
My mum could work under the sun in the farm all day long. And because she was muscular, any girl I met who didn't have big muscles didn't appeal to me. Aside that, I was brought up as a Catholic and was actively involved in Church activities.
On the strength of that, I had the opportunity of touring many schools and participated in various activities.
Unfortunately, I lived with an aunty who would send me out to hawk Okro on the streets. While hawking, if I saw any of the girls I liked in school, I'd hide from them.
But there was a particular day I saw some of them and when I tried to hide, I tripped and fell. All the Okro in the tray scattered on the ground. When the girls saw me, they laughed at me.
I was so ashamed, I told my aunty that I wouldn't live with her again.
In those days too, I was also good in writing love letters.
What class were you when you started all that?
It started from JSS 1. As at then, I was already a Don in the art of writing love letters. In fact, I started right from primary school because there were books that taught us how to write those letters. 'From my basket of love, I write this letter to you. How's your health which is most important to me above all…I hope all is well. If so, doxology…'
I still remember those lines. There was this one that tickles my fancy every time I remember it and it goes like this.
'No matter the rain fall, I'll still make out time to see you.' And when it was time to go see the girl and I didn't go, she'd was upset the next time we met. She was angry because I failed in my promise to make out time for her.
As an excuse, I told her I couldn't make the date because of the rain that fell on the appointed day.
And which affair was most remarkable for you as a teenager?
It happened when I was in JSS 3. I was raped and dis-virgined by a girl.
Really?
Yes! She was bigger and so was able to pin me down and my brother when I saw her nude… (laughs) Did I say that? (More laughs)
She took control, directing me how to make love to her. I've never said this anywhere. In fact, I'm not supposed to say this because I'm a responsible married man.
It's okay to talk about it after all it's in the past now…
I was scared and wanted to run but she pined me down. We were both in the choir and she was a strong member of the Church. I pray that God forgives me for that act.
So did you go wild after that incident?
My eyes became opened because I'd tasted the forbidden fruit. Of course, I started getting adventurous, started making moves to impress other girls but my poor background didn't help me. When I got into the higher institution, I would go round wooing ladies from different faculties.
Did you ever smoke?
Yes I did.
When did you pick up the habit?
From my University days. No, I smoked a bit during my secondary school days. I stopped it and picked it up again when I got into higher institution. There was this particular day, I called my dad and asked him if smoking was inherent in the family. He didn't know why I asked and he just replied with a yes.
Then, I remembered that he used to take snuff. Unknown to him, I was looking for a basis to 'legalize' my smoking act. I smoked till 2004 before stopping it finally.
Why did you stop?
I stopped because my mum asked me to. Someone who caught me smoking told her about it.
So, she called me and asked me to stop smoking . I told her that if she wanted me to stop, she too must stop taking snuff, she was an addicted snuffer. She could never sleep without snuffing. Eventually, although it was difficult, she quit and I stopped too.
Do you drink?
Yes. But I don't do beer anymore. I only drink occasionally and I drink responsibly.
What about partying?
Yes, I'm a rocker. I party like a rock star. I'm sure you party too, it's written all over you
You'll be disappointed
Are you serious. I party but I party in the Lord.
Where did you meet your wife?
I met her at a wedding program in Port-Harcourt where Okey Bakassi and I were the MC and she was part of the bridal train. She was very young then. Okey and I started admiring her but I was smarter than him and quickly went for her.
After that, we didn't see again but we communicated through letters. Because she was proving hard-to-get, I lost interest. Years after, I met her on the day that my father died. It was Easter period and I went to Port-Harcourt because my father was ill.
That was in 2002 and I had started making money being a comedian and I could pay his hospital bill. I was happy because my father couldn't believe that I could make it in my career.
I drove all the way to Port-Harcourt because I was told he wanted to see me. But when I got to the house, I met a crowd of mourners. With that annoyance, I went clubbing with my friends and got drunk. After a while, I excused myself to use the convenience.
As I was coming out of the male toilet, then I saw a female figure coming out of the female toilet too. Our eyes met and we recognised each other. That was how we both left that club for another. From there, we became closer and the rest is history.
How did you propose to her?
I proposed to her in London. We slept at night and when she woke up in the morning, she saw a ring on her finger. And I popped-up the question with my smelly mouth. You should have seen the kiss she gave me. We both kissed and you know sey na kiss with mouth odor dey sweet pass. (Laughs)