I'm passionate about Nollywood — Kene Mparu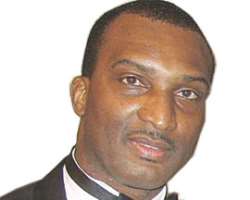 Kene Mparu is the Managing Director, Genesis Deluxe Cinema who has been in the cinemas industry for about twenty years now.
He once worked at The Odeon Cinemas in the UK before returning home some years ago to set up Genesis Deluxe Cinema. In this interview, he speaks on the state of the Nigeria movie industry as well as the role the cinemas is expected to play in building a better Nigeria movie industry among other issues. Excerpts;
How would you describe your experience as the Managing Director of Genesis Deluxe cinema?
I don't have any regret at all, it has got its challenges but no regrets at all. It's the usual challenges that people faces while setting up a new outfit. So, everything is good, business is good, except for some challenges like the Lekki road that was closed and people having difficulties getting to the palms, but there are solutions in sight, so I am happy.
Who are patrons of the cinemas?
It is very good, very soon we will become the biggest cinemas in Nigeria. The creation of cinemas in Nigeria has made a positive impact in Nigeria and Africa as a whole. Even as the world look forward to the expansion of cinemas in Nigeria, we are not far behind. Already we have opened a branch in Port Harcourt late last year and we are opening a few other branches before the end of this year.
How often do you feature Nigerian movies in Deluxe cinema?
For some time now, we have been featuring Nigerian movies and we have featured some in the past like Stephanie Okereke's 'Through the glass' movie, 'Figurine' by Kunle Afolayan and so many others.
We are also having discussions with some other companies to begin to show their movies in the cinema. But let me state here that we will not show any film simply because it's a Nigerian film, it has to meet up with the standard of a movie that can be shown in a cinema.
There is no doubt that lots of Nollywood producers are invading your outfit to show their films, how do you handle such rush?
I'm sorry to say that we try to turn down showing a lot of Nigerian movies here because our audience determine the kind of films we show to them. If they are disappointed with a badly produced movie, we cannot just say that because a popular actor features in that movie or the other we must show it to them .
Not all, we endeavour to pick the best movies for our audience to watch and be happy and feel entertained at the same time. We can't do be accepting any kind of movie that people bring to us, we are known for quality.
But when it comes to promoting Nollywood we are the most passionate . That does not mean that anything that comes to us must go. We stand for quality and we stand against mediocrity; anything that is mediocre we will not show it even if the storyline is good.
I think Nigerians are doing good when it comes to quality movies.
How do you cope with your family with this kind of Job?
The job is hectic, but I get on with it well. Sometimes I bring my kids to the cinemas because of timing and all that kind of stuff, they get to see me and spend some time with me around the cinemas and sometimes I have to stay till the evening so as to make sure things are going well, we are here to entertain people and we need to do a good job so we need all hands on deck to give everybody the satisfaction that they desire.
What about the security network?
We thank God for his protection, we are doing our best to make sure that people are secure when they come to the cinema.