Morravey Unveils Debut Ep "ravi" - A Shimmering Musical Odyssey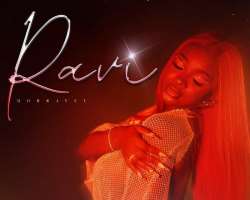 Lagos Nigeria, Thursday, 02 Nov 2023] Morravey, the prodigious talent whose quintessential vocals first mesmerized audiences on Davido's monumental album, Timeless, has finally released her highly anticipated EP titled "RAVI." The EP, comprising five tracks spanning across R&B, Pop, Afrobeats and Dance genres, marks Morravey's grand debut as a solo artist.
Born and raised in the vibrant city of Port Harcourt, Morravey emerged as a musical powerhouse, drawing inspiration from the rich cultural tapestry of her hometown. Port Harcourt, often referred to as "the Garden City," served as the fertile ground where Morravey's passion for music and creativity blossomed. Her songs echo the city's spirit of resilience, love and celebration.
Morravey's EP title "RAVI," which translates to sunlight, perfectly encapsulates the radiant energy that she exudes through her music. Each track on the EP is a testament to her versatility and musical prowess, captivating listeners with its diverse sounds and heartfelt lyrics.
The listening journey on RAVI commences with "What Is Love," a soul-stirring exploration of the complex dimensions of love. Morravey's soulful voice effortlessly intertwines with Afro R&B melodies, painting an intimate portrait of yearning and uncertainty, and resonating with listeners on a profound level.
Following this emotional odyssey is "High Again," a euphoric celebration of love, self-discovery and exuberance. The track captures the electrifying thrill of youth and the blissful feeling of being on cloud nine, inviting audiences to revel in the sheer joy of the moment.
"Condo," the third track, is a vibrant homage to her place of heritage, Port Harcourt. Morravey artfully weaves the city's colloquial lingo into the song, creating a connection between the listener and the authentic voice of her people. The music instrumentation mirrors the genuine sound of Port Harcourt. Through the beats of drums, the resonance of horns, and the playful notes of whistles, this feisty anthem celebrates the city's spirit through its infectious vivacity and unrestrained enjoyment.
"My Baby," the penultimate track, is a heartfelt ode to unwavering affection, celebrating a unique bond that is incomparable. Morravey's enchanting vocals beautifully depict the essence of cherishing shared moments, capturing the hearts of listeners with its genuine emotion and effervescence.
The EP culminates with "Magician," featuring the iconic Davido. This classicAfro Pop creation blends Morravey's signature vocal ability alongside Davido's distinctive raspy voice. Set against rhythmic beats, the track celebrates the resilience and independence of young women, solidifying Morravey's position as a compelling voice in the contemporary music landscape.
RAVI EP is a musical potpourri that showcases the depth and diversity of Morravey's artistry. While the EP arrives amidst tremendous excitement, Morravey has hinted at more surprises in store for her eager fans, who have waited patiently for her independent debut. Audiences are encouraged to follow her musical journey closely, ensuring they don't miss out on the unfolding layers of her artistry.
STREAM/DOWNLOAD "RAVI" EP
https://Morravey.lnk.to/RAVI
Watch the visualizer for "What Is Love"
https://www.youtube.com/watch?v=iYHtj-_nylM

Connect with Morravey:
Facebook | Instagram | TikTok | Twitter [X] | YouTube