NGA, GALLERY OWNERS, PLAN BUMPER FAIR FOR NIGERIA @ 50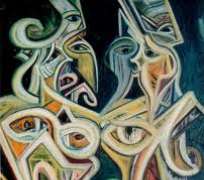 The National Gallery of Art (NGA) in collaboration with Art Galleries Association of Nigeria (AGAN) will stage this year's International Art Expo in Lagos with a difference. This is geared towards celebrating the country's 50th independence anniversary.
The special event scheduled for August 21 to 28 at the National Museum, Onikan, Lagos, will showcase works of artists from 30 galleries within the nation and abroad. Mr. Nduka Obaigbena, This Day publisher, will chair the event. Unlike the previous editions of the event, which laid emphasis on the exhibition brochures, considering its essential values after the show, this year's expo places emphasis on promotion and patronage.
The Curator, Mr. Simon Ikpakronyi, ascertained that the expo no doubt would confirm that Nigerian visual art is progressing in all ramifications as it is being put together, deliberately to mark Nigeria's 50th anniversary. He said aside from the major theme: 'Art promotion and patronage in Nigeria,' each gallery would present its own theme in respect of the independence anniversary.
For the major theme, Ikpakronyi said it was chosen to assess how much 'we have achieved in the area of visual art promotion and patronage since the inception of modern Nigerian art and particularly, from Independence till date.
'This will arouse the discussions under sub-headings such as Traditional Nigerian Art Patronage, The early part of the Federal Government, institutional and foreign Embassies in Nigeria, the roles of the artists themselves, auction as visual Art Promotion, Issues and Suggestions for Improving Visual Art patronage in Nigeria.' Also, articles by Krydz Ikwemesi entitled, 'Thematisation in Nigeria Art: A Personal Perspective; and Mrs. Peju Layiwola, 'The Visual Arts of Nigeria' and the 'Global Encounter,' which highlight some aspects of art patronage and themes in modern Nigerian art, would be presented, he added.
Throwing more light on the up-coming event, Mr. Oliver Enwonwu on behalf of self and Willy Agbaja for publicity, noted that the maiden edition of the show in 2008 showcased over 400 artworks from 34 galleries. 'Building on this success, the fair was renamed International Art Expo Nigeria in 2009, with over 50 galleries from Nigeria and five galleries from the neighbouring African countries including the Republic of Benin, Cameroun, Togo and Ghana,' he stated.
He said the exposition conceived as an annual event for the visual art sector will to hold every August at the National Commission for Museums and Monuments, Onikan, Lagos. According to him, the fair creates big market for modern and contemporary Nigerian artworks, exposes gallery owners and entrepreneurs to an international audience as well as provides a platform for cultural exchange between Nigeria and the rest of the world, while adding that the NGA and AGAN partnership on the International Art Expo will continue to increase the visibility and appreciation of modern and contemporary art while encouraging youth empowerment and national development.
In his address, Acting Director-General, NGA, Abdullahi Muku, stated that NGA believes the show will generate global interest in Nigeria's visual art sector not only because of the tourism potential, but also serving as a means of repositioning the sector as a catalyst for the economic growth of Nigeria.
He said the value of the expo is to create the awareness that the visual art sector is a business-oriented one if properly harnessed. 'This year's edition will feature a seminar, which will involve the media especially art reporters/presenters, writers and critics. The seminar will deliberate on how art and culture journalists should better report issues on visual arts and communicate effectively with their readers.'
Muku, however, noted that in the first expo, over 400 creative artworks from reputable Nigerians artists, executed in various styles, techniques and media with interesting themes were professionally exhibited in 34 exhibition booths with each booth to a gallery. He said the exhibition was accompanied with a highly informative exhibition brochure, which contains the history and development of private galleries of art in Nigeria before and after independence till date.
Also, expressing his gratitude, Chief Frank Okonta, President of AGAN, thanked Mr. Muku saying that, he has been very credible in promoting AGAN. Chief Okonta said he had followed the progress, which AGAN has made in the past three years and adjudged it to be impressive.