DIPO DINA POLICE ARREST SUSPECT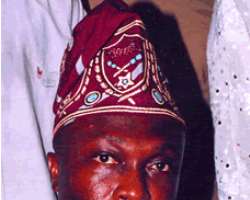 The police yesterday claimed they have arrested a suspected trans-border armed robber believed to be a member of the gang that shot dead, Ogun State frontline politician, Dipo Dina.
Otunba Oladipo Dina, the Action Congress (AC) governorship candidate in Ogun State was shot dead on January 25, 2010 by unknown gunmen opposite the Covenant University gate along Sango-Ota/Idiroko Road, Ogun State.
His Toyota Camry car with registration number FQ 661 EKY and other valuables were taken away by the gunmen.
At a press briefing yesterday at the Force Criminal Investigation Department (FORCID), Alagbon, Lagos, the Deputy Inspector-General of Police (DIG), in-charge of investigation, John Ahmadu, claimed a robbery suspect, believed to have witness the killing of Dina was in their net.
He said the suspected trans-border armed robber, a Beninoise, Ben Djideonou, alias Mathew Asumo, was arrested in conjunction with the International Police (INTERPOL). Ahmadu revealed that with the confession of the suspect, there was hope that the kingpin and other gang members would soon be arrested. He said the force had arrested many suspects connected with car snatching along the Owode-Sango-Ota and Idiroko axis.
Ahmadu, who said the suspects were being interrogated, added that with their confessions so far, it was suspected that the late Oladipo Dina and others on the ill-fated journey might have been victims of armed robbery attack. He said while the suspects were being interrogated, the kingpin of the robbery was being hunted by the police. Describing how Djibeonou was arrested, he said, on a tip-off, the police discovered that the suspect specialized in snatching of cars at gunpoint along the axis Dina was shot dead.
He said because there was no database that could speed up the arrest, it took the police this long to arrest him. 'But so far, he has confessed snatching several cars through the bushpath into Benin Republic with foreign and local collaborators.'
On the unresolved high profile murders that involved people like the former attorney general of the federation, Chief Bola Ige; Harry Marshall, among others, he expressed optimism that one day all the culprits responsible for their assassination would be unmasked.