Kwadwo Sheldon Hangs Out With Danny Lampo In UK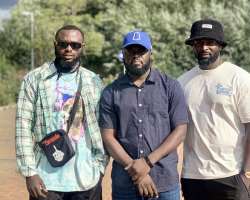 Danny Lampo is a multi-award-winning UK-based Ghanaian artist known for his unique sound and captivating performances. His music is a fusion of afrobeats, reggae, and dancehall, and he has a loyal fanbase all over the world. He doubles as a musician and a footballer who plays for Reading Tigers in the East Berkshire League.
Kwadwo Sheldon is one of Africa's most popular content creators with millions of views on his YouTube channel. He is known for his humorous and engaging content, and he has a huge following on social media. He is in the UK for this year's edition of Ghana Party In The Park, which is set to take place on the 12th of August. Interestingly, Kwadwo Sheldon was present during the arrival of the Accra to London by road crew when they arrived last Sunday.
The event promises to be a night of great music and entertainment. In addition to Danny Lampo and Kwadwo Sheldon being present, there will be other talented artists performing as well. The organizers have put together an amazing lineup that includes some of the biggest names in the UK afrobeats scene.
The event will also feature food and drinks, so you can enjoy great music and delicious food all in one place. The venue is easily accessible by public transport, so you won't have to worry about finding a parking spot.
If you're interested in attending the event, you can purchase tickets online. The tickets are reasonably priced, so you won't have to break the bank to attend. You can also invite your friends to come along with you and make it a fun night out.
Overall, the event promises to be a night to remember. With great music, delicious food, and a fun atmosphere, you're sure to have a great time. If you have any other questions or concerns about the event, feel free to ask. I'm here to help you in any way I can.