Yacob's Self Pleasure Uncovered By Uti and More Big Brother Africa Update.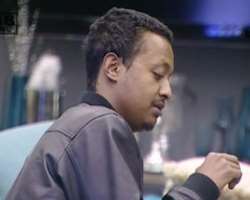 REALITY to the max. Babes and booty. The brash and the rash!Yip, BBA nation there seems to be enough undercurrents swirling around in the All Stars house, not to mention The Barn, to whip up a perfect storm.
Uti played a fast one on Yacob and he is said to be still traumatized. Uti asked if he did or ever pleasured him [implying masturbating] and he admit. Uti got him to reveal his secret when Yacob got into his one on one conversation with Big Brother only for 'Big Brother' in between their conversation asked Uti to continue the conversation with Yacob in his [big brother's] voice, Uti played big brother – talking in big brother voice. Yacob, who was unaware went on to admit his self pleasure – he later went on to talk to contestants Munya, Kaone and Uti after the conversation about Big Brother asking him 'insane' questions that his 'friends would definitely use this against him when he gets back home.'
Only for Munya to raise his eye brow and asked if Yacob and his friends do it together and Yacob said "No ways!"
CLUCK, CLUCK, CLUCK! … Code getting laidback.
EISH! With thievery so rife in the land of the brave, it was something of a disappointment to discover that Max, (yes Lerato's ex saliva-exchanging buddy in BBA2) who was shipped to the Big Brother barn this week, also has something of a long-fingers syndrome.
In short, it seems brotherman is a taker of things that do not belong to him … eeeeeuuuuuw, what an ugly trait in a man. Sure my sistas out there will agree with me on that one.
Anyways, there was Lerato, in the presence of Max himself, warning Sammi to lock his bags and put them out of Max's view because come Max's expiry date in The Barn, he'll ensure he doesn't leave empty handed.
Don't say you weren't warned, Sammi!
Somehow somewhere in the vast variety of topics that have made the rounds in the house over the past weeks, 'bumping' was once again brought up – by Uti, Code, Mwisho and Munya on Tuesday.
Seeing that some housemates have vowed to fast from the habit of 'bumping' while in the house, perhaps the next best thing is to talk about it.
The boys seemed to have mixed feelings on how possible it is for a man to 'bump' the same woman the whole year, EVERY DAY.
OUR EYES ARE ON YOU UTI!
The ever straightforward Uti came forward and remarked that "it is not physically possible for a man to perform all year long and keep physical interest in the same woman".
His reasoning is that women were not created to want to bump every day.
Perhaps this should be formulated into a debate out there for the wider public to give their views – what do you say guys?
Mhhmmm, we could even make this a political thing and give the floor to our different youth league representatives to shed more light on.
While Uti waved the no card on the subject, Code seemed to suggest it was possible for one to 'bump' the same woman every day of the year and said that perhaps Uti wasn't doing something right if he wasn't able to 'bump' the same woman 365 days.
Talking of Uti, just what in the world is wrong with the men in the BBA house? First Munya insulted Africa, then we discover Max has taking ways, and now Uti has gone and put his foot in his mouth.
He committed a politically incorrect sin by using the word 'retards'.
What is wrong with you boys? I can already see some Uti enthusiasts trying to excuse his behaviour by going "perhaps making such offensive remarks is Uti's way of mourning the death of his father". Mourning se voet.
Anyways, Uti's 'retard' joke was actually aimed at Yacob who earlier was advised by Sheila to venture into a radio career. Uti then chipped in saying that the reason Yacob makes Sheila laugh is because he is retarded.
It was surprising to see the usually-ready-to-fight Yacob taking Uti's remark as a joke and turning the tables back on the Naija dude saying that Africa will not appreciate his remark as there might be some 'retards' watching the show.
Big ups to Yacob for dealing with Uti in the spirit of his remark.
Advice to Uti: Watch your wayward tongue.
On a more emotional note, during his diary session yesterday, Uti opened up to Biggy that the thought of what was going on back home with regards to his father's passing was scary and drives him crazy.
He said he's trying to distract himself and its challenging because he's never felt this kind of clash of emotions. He also told Biggy that for now, he has chosen to block it all out and will only deal with it once he leaves the BBA house. Once again, we wish Uti all the strength during this period.
HE SAID, SHE SAID
Yo! Talk about verbal diarrhoea.
As exciting as BBA is, it doesn't come with a drama or fight-free guarantee tag on it. Right about now, Mwisho and Sheila can attest to that as the two exchanged verbal blows on Tuesday evening.
It was drama left, right and centre as in the case of "I said, you said, don't threaten me, don't swear at me, stop intimidating me".
I swear the words were running out of those two's mouths faster than a diarrhoea-infested tummy. And wherever Sheila goes, the F word seems to follow so you can just imagine how fast that F word ran the marathon during the fight.
The crux is that Sheila somehow felt that Mwisho had trampled on her 'freedom of expression' and needed to make it clear to him that "everyone is entitled to their opinion".
Come to think of it, freedom of expression is a universal right.
In the heat of it all, Mwisho even accused Sheila of insulting his girlfriend outside the house (all this while Meryl lay next to him).
To her amazement, Sheila then put a lid on it by saying anything that pertained to Mwisho's girlfriends was his 'business' and had nothing to do with her. This was shortly followed by yet another F word from Shiela … I tell you!
Anyways, the pride within the coif behind Mwisho's head would not allow him to rest until he had said all he wanted to say – let's just say that Mwisho had the last say in this fight!
Uti Update
Big Brother clarified the situation regarding Nigerian housemate Uti in the wake of his father's death. Under 'Emergencies' dealing with 'family crisis' the Big Brother rule reads as follows:
'Should there be any extreme crisis in a contestant's family or private life outside of the show, Big Brother will communicate this to them. Should a Housemate and Big Brother decide that the nature of the crisis mean that they have to leave for any protracted time, they will not be allowed to re-enter the house and may be replaced.'
Big Brother presented two options to Uti and his family:
1) Uti leaves the Big Brother house immediately until the funeral . This would entail an absence of two to three weeks as no funeral arrangements are in place yet. In this case Uti may not return to the game.
2) Should Uti attend the funeral only, an absence of three to four days, including travel, would be required. In this instance he would be accompanied by two chaperones, a senior member of the production team and a Nigerian who is conversant with the language of Uti's family. This monitoring arrangement would be in place to ensure no communication with the outside world on any information which may impact on the contestant's behaviour in the Big Brother series. Should this monitoring be judged to be effective, Big Brother would allow Uti back into the game on terms and conditions prescribed by Big Brother.
After discussions with his family, Uti and the family chose the second option.
For now, though, the centre – or should I say the surface – is holding, even if it's as stretched as the ample Paloma trying to fit into a pair of Jen's Lycra tights.
Just time for a brief look-in today. Feeling a bit jaded. The hounds of heaven, or rather the righteous left, are yapping at my heels.
Yip, they think we should be writing about the Bolsheviks and not Dolce chic(ks)! My bad … but that's the reality.
WHO LET THE GOATS OUT?
So, back to reality it is then. I didn't think it was possible that Munya, also known on some BBA blogs as Mumu (do any of you know what it means? I don't), and that self-proclaimed apostle of 'Rural Swag', aka Sad Sag, one-for-the-money, two-for-the-show … K-1 to his fans, K-0 to others … could get my goat any more than they do already.
First you have Munya, yes Munya, or Mumu if you prefer, the dude who in BBA3 all but stalked our Lucille; the dude who cougar-ed up and ca-noodled with Botswana's Tawana to satiate his two-minute urges – yes him! – piously intoning earlier this week that he can't respect Meryl.
I beg your pardon! Bless his little hooves … but what a goat!! It's enough to goad a saint, and I'm not one. I sometimes honestly think that Munya is a figment of his own imagination. Maybe I'm putting it too mildly, Mun-dude's probably a legend in his own mind. Whatever.
Not to forget that this is the same Munya who was trying to hoof it up with both Tatiana and Meryl at the start of the show. The same Munya who talked about having a 'machinegun' … you know what I mean. Gazungas and totolozis and all that.
And why am I not surprised that his untethered remark about Meryl came after she and Mwisho started to get close. The green-eyed monster can be a byatch!
SNAKING IT
And while on green-eyed monsters, who was he bleating on about it to … no prizes for guessing. Sad Sag, aka K-1.
Yip, when push comes to shove, it's not all that difficult to separate the sheep from the goats! Ka-moanie seems to be making it a career move to nominate Meryl every week. His reason this week? Meryl should go home and breastfeed her baby, and he's worried that she might make a Big Brother baby. Anaconda … oops, I mean aikona!
How low can you go … slither low, it seems. NASTY. N.A.S.T.Y.
And what's with his rapping in the diary room. Does he think he's the new Kevin?
Don't know about swag, but have to pik-pik it to K-1, he's the slither to Munya's blether.
A tag team of annoyingness.
MAXING IT
What about Lerato's squeeze from BBA2, Max.
Forget squeeze, this time round, I get the feeling she'd like to throttle him.
Was the big Zambian this loud and brash the last time round? He seems to have become rather like that embarassing Uncle so many families seem to have!
Unless Biggie's sent him in with a plan to disrupt by all means necessary! Who knows? It's pretty evident, though, that Lerato is far from amused. Wonder if she's wondering what she ever saw in him.
Still, Max's mad moments are adding to the entertainment centre value of The Barn!
In other news, with Lera doing her milkmaid thang, Yakka-Yakka has switched his attention to Jen. Yip, he's done a full 360-degree swerve. And it's all perve, it seems.
He confided that he knows that Jen's in a relationship (with Quinn, aka Skelemba from BBA4), but hella he's happy to fantasise about it. Him and Jen, that is.
Yeah, Yacob. Oh yes, he also still has a thing for Kristal from BBA. And …
Eish, is there no end to Yakkie's 'Girls of the Playboy Mansion' aspirations.
OK peeps, I'm out of here for today … and have to apologise, in advance, to goats everywhere, but only the four-legged ones.
Stay tuned!
Additional report by Selma Shipanga, Namibian