I'm Still In Nollywood, I'm Only Retracing My Steps - Francis Duru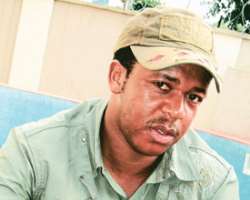 Francis Duru doesn't come about as just an ordinary actor, he is one of the finest in the industry with different roles in flicks one cannot forget in a hurry. The actor, who relocated to Abuja about 10 years ago in search of what he termed fulfilment, tells Tunde Ayanda why he hardly appears in movies again, how he became a born-again Christian and what his family means to him. Excerpts:
You have been absent from the movie scene for a while, where have you been?
I don't think I'm absent because I still have about a couple of movies on the shelf, but in all fairness, I've obviously stepped away for some reasons. One of the reasons is the fact that I have other things that I am doing presently in another sector of the entertainment industry, but the basic reason is that to me, the industry is no longer what it used to be, the zeal is dead. Before now, we loved going to locations, but now, when you bring a script, something takes you away because of the nonchalant attitude towards production. People have turned the industry to something of a child's play or an ordinary craft than the artistic finesse that one is supposed to give the audience, that artistic finesse has been demystified from the industry.
People are now in the industry to make instant fame and money, every actor doesn't tell themselves the truth, because if you are acting just for money, you are not supposed to be there.
This is because there are two ways to it, if you make the money and fame, you must protect the growth, honour, integrity and heritage of the profession which is the artistic flow that gives it the credit it deserves as a genre.
The most important reason, however, is that I'm involved in some other things which include the national campaign against human trafficking. My NGO and the government struck a relationship that has given birth to the organisation that I represent-Initiators of Awareness Development.
We have given it our everything, energy, finance and all, we conceptualised different projects, especially during this period when the focus is on prevention. because human trafficking is a crime against humanity, and ignorance is also a big problem.
And we have used the media and the entertainment industry to structure an advocacy that can make both the perpetrators and victims aware that this crime is now in the spotlight and we won't accept it because most people don't know it is a crime.
I am also into community theatre which is the theatre for development and I consult for companies, parastatals and others. I also do Master of Ceremony (MC) and blend it with stand-up comedy and to be candid, it gives me a whole lot of accomplishments, but when a good project and movie come my way, I still do them.
Do you miss Nollywood at all?
Yes I do. I was born there, its like my first love, but at some point, it became overwhelming.
However, the good thing about it is that we have projects that we have not yet started, but has been crafted and which would start making headlines in the next few months. I should begin the Majek Fashek project in America very soon, the flick is produced and directed by Majek Fashek and I'm looking forward to that.
We also have some soap operas and Missing in Action, which is for the Nigerian Armed Forces, making the world appreciate and celebrate the ECOMOG troops and Nigeria.
So, all we are doing is to sell the Nigerian brand to the outside world right here from Nigeria and that to me is re-branding. I'm still in Nollywood because an actor never resigns, I'm only retracing my steps with value for more appreciation.
But why the choice of human trafficking, is this borne out of a personal experience?
No, the NGO is a magnet that draws issues relating to social problems like drugs, AIDS, etc. But there are so much emphasis on what we do, the organisation draws issues to itself through sensitisation, mobilisation and creation of awareness. We are working on the Goodluck people, the one man, one vote for the coming elections.
Our job is to make sure that we add values to humanity in every sphere, as an artiste, I owe my society through my fans and this is my time to give back to the society that has made me. As an actor, its not all about self-glorification, but what impact you have made through the means that you can.
Was it part of the reasons you relocated to Abuja?
No, I relocated to Abuja in 2000 and it was because I was in search of fulfilment. Then, there was an emptiness in me, but when I got to Abuja, I found God and became born-again and this redefined every other things in my life.
It also gave me fulfilment that the vogue of the industry can't define me, man can't define me, only God defines me. For us artistes, we are gifted with re-creation, we create moods, emotions, situations and touch people's lives, so I found God and I stayed put.
How did it happen?
I went to a family worship centre and attended a service, there was an altar call and the message touched me, I was ministered to and that was where my artistic talent became more redefined, my flair for MC and compere grew.
And today, I have handled events from the president to an ordinary individual, ministers, governors invite me for services. I anchor events abroad and these are the best things of the new me.
Did you miss your old ways?
Let me put it simply, I'm not the kind of guy that believes in the past, because it is not a place of residence, but that of reference. I hardly bother myself about what I missed, though, I agree I missed out the entire Lagos life, the hustle and bustle, but if I look at what I've gained, Lagos wouldn't have given me half of those things.
Being born-again, what has it changed about you?
A lot. My perception of life and this comes from a bible passage which says, 'without me, you can't do anything.' He is the apex of my life and everything I do stems from Him. I may make mistakes, I may fall, but that doesn't mean I don't stick to Him, my perceptions are borne out of doing things in His way and if at any point I miss them, I retrace my steps and come back to my source.
Does that mean you now choose the roles you play in movies?
Yes, to a large extent, but what is so challenging now is that I'm a minister in the church with the youth. I teach the youths' church and at times get worried about my acting, because I may smoke on the set for a character, now the good thing is that before I became born-again, I had a profession and its a two-way thing. It is not what I do on set but about me, I can't throw away my profession. If I need to smoke to enhance a character, I would do it perfectly well, but there are certain roles I will not play.
What kind of roles?
Nudity and some high-level of romance. I could kiss as it is expected by the script, but moderation is now the word. I have played a bad boy in Total War, Final War and its funny, because majority of those who appreciated the role are born again Christians because it has a Christian undertone.
Hypocrisy is one thing affecting believers, but I am not afraid of falling, if I fall, I will get up and move to the next level.
Were you married before you became born-again and how did you meet your wife?
I got married in my church. My wife was in year one when I was graduating from the University of Port-Harcourt.
What was the attraction?
At times, you don't even remember what attracted you, but I knew there was a chemistry, there was something about her, I saw a lady with an open and clean mind. I saw someone that can tolerate my excesses, who knew my negatives, but concentrated on my positive values to change and be with me and that kept us together.
So, you were very hot on campus?
I was a bad dude on campus, because I was a celebrity in school then. I was a good actor on campus and you know how babes flocked around, you never can blame anybody, it was just a phase of my life and I'm happy for the experience because I learnt a lot from that.
How do you combine all these works with your responsibility as a father?
I'm a family man with three kids, my first child is in junior secondary school, my first boy is in primary school and the last child is almost two years old. I don't have issues getting all my schedules done and still cope with my family because I set priorities for myself.
I place my family first because money will fade away, fame would go and you are stuck with your family. I'm happy they are my best friends, I get jobs done when I have to and spend time with my family. The value and essence of the family become more visible when you leave home and desire to come back. To me, its a motivation and tonic.