STRIKE: GOVT DIDN'T BRIBE DOCTORS – NASARAWA HEALTH COMMISSIONER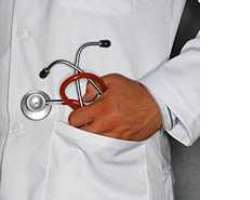 Nasarawa State Commissioner for Health, Dr. Ahmed Bawa Abimiku said the state government did not bribe any doctor to violate the current strike embarked upon by medical doctors in the state. The commissioner who disclosed this in a press statement in Lafia also described the publication made by a national daily (not Daily Sun) as libelous and mischievous.
Abimiku further stated that the state government did not pay N250, 000 weekly to each doctor as alleged by the Nigeria Medical Association (NMA) and urged them to probe and sanction the doctors involved.
He alleged that the NMA, Nasarawa State Chapter, claimed that they had been directed by their national body to embark on strike and that when the strike was called off at the national level, the state chapter of NMA and Association of Resident Doctors (ARD) had resolved to continue with the strike as, according to him, 'the strike started in Nasarawa State even before Federal Government commenced CONMESS.'
The commissioner further explained that the many meetings and entreaties held with the NMA and ARD for the doctors to allow the government study the federal circular on CONMESS and know the financial implications before adopting a strategy on implementation had fallen on deaf ears, pointing out that CONMESS was a Federal Government circular that had to be domesticated before the issue of implementation could be considered and approved to suit the state's financial strength. He said the NMA and ARD in the state had a hidden agenda which was being unfolded by their attempt to blackmail the government through false and malicious allegations.
The commissioner further explained that the state government was a highly responsible establishment that offered good governance to the people of the state. He said, 'given a situation where medical doctors would go on strike without any basis to hold government to ransom, government has the responsibility to take necessary emergency measures to address the situation. Such government action was taken in good faith with all the sense in good faith and cannot be said to be bribery as being insinuated by Nigeria Medical Association (NMA) and Association of Resident Doctors (ARD).'