"No Be Me Break Your Marriage" Nancy Iheme Fires Back At Sandra Iheuwa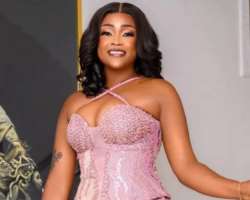 Nollywood actress, Nancy Iheme, has fired back hotly at Sandra Iheuwa who publicly holds her responsible for the fall-out of her marriage with Steve Thompson.
In a viral social media post on social media, the renowned business expert, Sandra Iheuwa, made a dirty claim against Nancy Iheme.
According to Sandra, Nancy slept with her husband on several occasions and her fornication with her husband caused the disintegration of her(Sandra) marriage.
In a now-deleted Instagram story post, Nancy Iheme labeled Sandra an attention seeker and vehemently denied being responsible for the disintegration of Sandra's 100 million naira wedding.
Nancy disclosed that Sandra's statement was defamatory and that she could sue her for it. She also denied knowing Sandra and her acclaimed marriage with the man she claimed to be her husband.
Nancy made it clear that she believes she is not the sole reason behind the wedding's collapse, and she questioned Sandra's motives for seeking attention through these allegations.
She wrote;
"I can aue you and your Ex, till you bring evidence… Thank God you know your ex talks a lot, what makes you think he has gone down with me??? Do you know how many celebrities he once told me he had things with?"
"Stay away from me, no be me break your heart this girl… I still can't phantom why you are dragging me. I don't even know you with this man in question.
"Ain't gonna speak on this issue again because you are not worth it trust me. Go and lick your wounds and let me be."
The exchange between Nancy Iheme and Sandra Iheuwa has generated significant buzz and reactions among fans and followers.
As the situation unfolds, it remains to be seen whether Sandra Iheuwa will respond to Nancy Iheme's strong rebuttal or if the matter will escalate further.