Da Grin's Father Gives Nod To Producers Of Late Son's Biopic.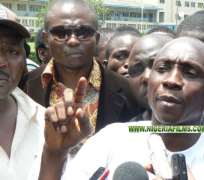 Veteran movie director, Lancelot Imasuen is not be conjuring a script put together by friends, industry colleague mixed with a bit of imagination to entertain audience. The movie titled 'Ghetto Dream' is a memorial and tribute movie on the time and life of late rap artiste, Da Grin.
The movie powered by Stingomania Entertainment recruited Lancelot Imaseun as director and in a landmark move, he met with the father of the late rap artiste. Da Grin's father has given a nod to the biopic and his input on the life and times of his son is considered paramount to make the movie.
His father has been talking to the producer for very minimal fine tuning to the script so it would clearly and absolutely tell of the late artiste's life.
Speaking on the involvement of the late artiste's father, Lancelot Imasuen said, "I'm of the opinion that when you want to look into an epic work like this, talking about the deeds of some heroic deeds of some individual, you must be able to have more than enough to put on the table and all of that."
The search for an actor to play the role of Da Grin is ongoing and the movie would feature both upcoming and established artistes and friends of the artiste.
'
Ghetto Dream' will profile in a touching way the true life story and experiences of Dagrin: the development, struggles, breakthrough and death of Dagrin.
"The movie, Ghetto Dreams will serve the dual purpose of immortalizing Dagrin and at the same time provide some financial consolation to the family of Dagrin who have been largely ignored by the various commercial projects based on the life and works of Dagrin. A portion
(20%) of the net proceeds from this movie will go towards donations for the family of Dagrin, while another 20% will go towards the endowment for the Ghetto Dreams Foundation in honor of Dagrin.
The movie will be premiered at major theaters in different locations at home and abroad." Samuel Olatunji, publicist for Stingomania Entertainment informed.