My grouse against Nollywood-----WALE ADENUGA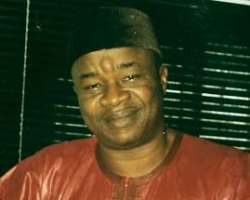 For over 30 years, Mr. Adenuga had held Nigerians spellbound with his hilarious productions on television or on the pages of magazines. He has endeared himself to Nigerians who have come to rely on his witty productions as antidote to crisis in the polity. In fact, to underscore his relevance and contributions, an appreciative nation had given him the national honour of the Member of the Federal Republic, MFR.
Yet Adenuga is not yet done. In this interview, the master humourist, passes Nollywood, Nigeria's film brand, under his telescope and came out with a damning verdict. The good news, however, is that his company, Wale Adenuga Productions, has immediate plans to take the industry by storm through production of real films since 1984 when he produced the last film. The interview is quite revealing and shows the serious side of Adenuga, who is known for humour.
You have bee a dominant force in the Nigeria's entertainment industry for over 30 years now. Apart from your award winning television productions, what are the other plans you have for the industry?
Wale Adenuga Productions is planning to revisit the film industry. We came out with a celluloid film called Papa Ajasco in 1984. Since then we have not done any film. What I mean by film is film in terms of cinema. Right now we have just acquired some state of the art equipment. Very soon, Nigerians should expect a blockbuster film from our stable. It's a film that will shake the country; it's coming out in the next six months. That's our latest effort apart from our normal television production. We want to come out with at least two films in a year. We also plan to upgrade our PEFTI film school.
A lot of criticism trails the Nigerian film industry as represented by Nollywood. How do you rate Nollywood?
Firstly, we have to define Nollywood. From all perspectives, if you study history very well, you will know that Nigerian film industry actually started long ago. We came out with a film in the 1980's. The likes of Ogunde came out in the 1970's and 1980's. Nigerians had been making films for cinema for decades. There was a down turn in Nigerian economy in the 70's and 80's and Nigerians found it difficult to produce films for cinema.
Apart from being capital intensive, it was a dollar-based economy and with the fallen Naira, products were becoming expensive. In the early 1990's, 1992 to be precise, Nigerian film producers designed a cheap way of coming out with home video. Instead of doing films for cinema, they discovered a cheap way of doing home video, VHS, cheap camera, etc. that aspect of Nigerian film industry that started in 1992 till date is what is referred to as Nollywood.
When people talk about Nollywood, they don't talk about people who were making films, real films before 1992. It is an erroneous belief to think that Nollywood is a terminology representing Nigerian film industry. It only refers to that aspect of Nigerian industry that started in 1992. It came about when people could not do the real thing and came out with alternative.
You cannot expect its products to be as authentic as the real thing. Due to the easy and cheap nature of Nollywood, a lot of people, traders, now rushed into it, not to achieve artistic excellence, not because they were creative but just to make money. Because of the all-comers nature, standards fell and products became washy washy. You see a washer man or carpenter producing a film. He knows nothing about story. He just sees a successful film from another land and gives somebody money to rewrite it for him. These are the things that brought down standard of film making in Nigeria.
Until government or whoever sanitizes the industry, I am afraid we will not get out of this doldrums. Right now, we are stuck. Only very few individuals who have the means to produce real films, on 35mm film format, are the ones that are trying to keep afloat now. If you can produce a good film for cinema, you can remain in business but for as long as you rely heavily on this washy washy VHS, VCD stuff, which pirates have even killed, there's hope for you as a producer. That's the truth. If you have money to do film which is more than N10 million, to do film on 35mm format, you can still remain in business. If you are going to depend on the VCD, 200K stuff, forget it because pirates have taken over this market.
How come then Nollywood is rated second in the world?
The people who rated it sounded a note of warning that the rating was based on number of movies produced by any country and based on standard. What that meant was that because Nigeria was able to produce so many VHS copies and home movies which was about 4000 in a year, it was rated number 2 whereas the same white man will tell you that South Africa that produces 5 or 6 real films every year is rated higher than Nigeria. There is difference between Nollywood products and real films for cinema. A country that produces 4 films is rated higher than a country that produces 4000 – 10,000 home videos but people who are not familiar with how things are done will not understand the rating.
Nollywood has unleashed a lot of stars on the nation and they are busy abusing decent sensibilities. How do you see these stars?
This pure water approach to film making has invited thousands of people who have no business in the industry, into it but we know the real stars. There are a lot of good talents – actors, directors, technical hands, etc. in Nigeria. We have only to sharpen their skills. By the time the industry is sanitized, everything will fall in place and these local champions will be shown the way out. We will be able to pick the wheat from the chaff. Right now, everything is muddled up.
What should be done to empower the industry?
I am not one of those people indicting government for neglecting the industry. Our people say that it is the child that raises its hand that is carried up. Practitioners in the industry don't have an umbrella body to champion our cause. Both doctors and lawyers have Nigeria Medical Association, NMA, and Nigeria Bar Association, NBA, respectively. Who is the national president of the Nigerian film industry? There are merely multiplicity of guilds that are busy fighting one another and not a national body. The Igbos, Yorubas and Hausas have their different guilds. Why is it so? Before government will help any industry, won't they dialogue?
We don't have an umbrella organization; we don't have a national president. So, how can government help us, who is going to represent us? The so-called guilds are tribal and this is a shame. Before you expect government to help you, have you organized yourselves into a formidable body that government will respect? In a household where father, mother and children are at loggerheads, how can the king of that town dialogue with the head of the family; there is no head.
So, what is the way out?
We need to organize ourselves into a national guild, not the tribal thing they are presently having. All the guild heads are taking their positions to go and collect money from governors. Selfishness and greed are the other of the day. The heads of these small, small guilds are ready to kill anybody who makes any attempt to remove them. They don't even want a national body because they believe that national body will render them impotent and they are not sure of becoming national president.
They know how to form national body but don't want it. All these little pockets of guilds just go about to meet state governors for their pockets or they are going to Abuja doing awards or film festivals to get money from governors. They are okay with their pockets. In some cases, husband, wife and children re inside one guild and they are going to governors to collect money and making the governors to believe they are representing the film industry. It's very bad.
The way out? Even entertainment writers can help proffer the way out because they are part of the industry. Whenever proper things are done, entertainment writers can form a guild. They are pat of the film industry and should help in finding solution to the rot. Their power lies in their pen; they can change the world with their pen. They should not underestimate the power they have. I am showing you the nakedness of the film industry and the solution cannot come from only one person. It's food for thought for all of us. All these people killing Nigerians over guild, it's shameful.
The bottom-line is money. They go to different governors to collect money. That is why they are killing themselves. We need a national umbrella and the way to do it is to register nationally. Let us call actors throughout the federation to do a new registration with proper AGN. Let all directors, whether Hausa, Igbo or Yoruba, do a new registration under a national DGN. Let all make up artistes have their guilds. Let everything be national. Let every guild wear a national outlook.
That's the way forward and all these guilds officers should now go to Abuja and form a national executive committee. But they don't want national guild. They are content with collecting money from governors. Look at what happened in Anambra State; that is the height of greed. Look at the shame of Anambra politics last time. They said they were supporting one candidate. How can that be? That is the height of roguery. That is using your position to amass wealth. The Economic and Financial Crimes Commission, EFCC, should arrest them.
How can a body of artistes say they are in support one governorship candidate against another and to worsen the matter, even the person they supported did not win? What happens now? It's very shameful for our industry. An artiste is an entertainer of mankind. You are created to entertain all political parties, not to prefer one political party because you have been compromised. It's unethical. It's just like doctors; you can't see doctors supporting one political party. They are trained to be neutral and treat the politicians when they are sick regardless of political parties. We have lost all sanity in our industry.
Advice to upcoming entrepreneurs
Everything is just turned upside down. May God help us to sanitise the industry. Right now, if care is not taken, we don't have a good legacy to leave for upcoming ones. We just need to sanitise this one so that upcoming ones will be able to enjoy a good future in the industry.
The way it is now, it's like when water is being muddled. It's dirty. We'll need government to put alum inside the water to sanitise it so that present practitioners, upcoming ones and future ones yet unborn will be able to enjoy the industry. How that sanity will come, I don't know. May the good Lord help us; we need divine intervention.