A Tribute to Yinka Davies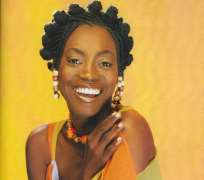 Yinka Davies – friend, sister, colleague, powerhouse vocalist, songwriter, arranger, actress, dancer, Reality TV star – I can go on and on! She turned 40 recently and I'm thankful to God for sparing her life. But I have to admit that I'm truly sad her talent remains untapped.
I have a huge amount of respect for this rare human being I met 15 years ago through a couple of music industry consultants Deun and Ayo Solarin. I was blown away by her personality and two weeks later I went to see her perform live at The French Cultural Centre. Gawd! she was out of this world! Her voice, her presence, her eccentricity, I was in awe!
Yinka is unpredictable, crazy and fun to be with. With her, there's never a dull moment. Recently someone set up a surprise birthday party for her. I was heading to the venue with some other friends late at night and we got lost – honestly I don't know where she came from. She emerged laughing and screaming excitedly. She was barefooted. She hopped into the car and we headed for the party. I was like, only Yinka Davies can be so crazy. She dropped by my place once and said 'Desola mon bo o'; saying she'd be back in thirty minutes. I didn't see her till 6 months later. She is different and I love that. Being different is the hallmark of a timeless artiste.
She has been compared to Eartha Kitt because she can do any style: Jazz, R n' B, Afrobeat, Pop, Soul and Alternative… her works with Lagbaja have been nothing short of phenomenal it pains me when people talk about female artistes today and she doesn't get mentioned. Songs like Eko li and Emi nlo are true classics. Recently she accepted to work with me on a few cuts on my upcoming album and we had a blast! I featured her on one of the songs titled Life is Beautiful alongside an emerging artiste called Switch.
Yinka deserves more and we want more from her too. She's not a 'run-of-the-mill' artiste but a true icon who's greatly misunderstood.
Yes, she still owes us that album but I have always said it's better late than never. She is someone I truly love and respect.Yinka you owe yourself, you owe the public this one thing. I know what your capabilities are, I've experienced you on stage and in the studio – it's time to break the yoke; it's time to shame the naysayers, the doubters, the haters. I see you working with Cobhams, Don Jazzy, Legendary Beatz and I know it will be one hell of an album. Yinka I'm waiting. The world is waiting; we are salivating. As a female artiste I understand the challenges but we have to stay strong. We have to rise above the storm you will pull through. I can't wait to purchase that album; I look forward to the world tours, the critical and commercial acclaim. Let the world get a taste of the music, the mayhem, the myth that is 'Yinka Davies'.
God bless you my sister; may you continue to go from strength to strength… Naija salute a true soldier!

(Weird MC is a Lagos-based songwriter, performer, producer and music entrepreneur)

(Weird MC is a Lagos-based songwriter, performer, producer and music entrepreneur)

(Weird MC is a Lagos-based songwriter, performer, producer and music entrepreneur)

(Weird MC is a Lagos-based songwriter, performer, producer and music entrepreneur)

(Weird MC is a Lagos-based songwriter, performer, producer and music entrepreneur)