am not arrogant to fans, says Abba Ruda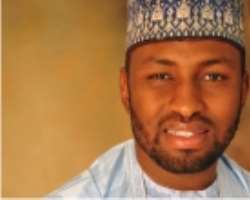 Abba Al-Mustapha a.k.a Abba Ruda is a household name in the Kano film industry otherwise called Kannywood. He made his debut in 2003, when he featured in the film titled 'Ruda,' this earned him the name Abba Ruda. Some of his fans believe he is arrogant, but in this interview with Maryam Garba Hassan
How did you get into Kannywood ?
I got into the film industry when a friend told me he had stories he had written which he wanted me to sponsor, the film was to be entitled, Ruda. Up to the day the shooting of the film commenced, I didn't know that I was going to act the major role until it dawned on the crew members that the actor who was paid to act the lead role had disappointed the producer.
The director and the producer of the film then convinced me to have a go at it. They said I had what it took to act the role coupled with the fact that I was there from the beginning of the rehearsals; so, I called my mother on the phone to intimate her on what I was doing and to ask her permission to take part. She gave me the go ahead and said doing so would give me ample opportunity to know where the money I had invested in the project would go and if it was worth doing at all.
How did 'Ruda' bring you to limelight?
I acted the role of a protagonist who was switched at birth and was wrongly given to his stepmother who then gives birth on the same day with his mum. It showcases the evil plans each mother has for her biological son whom she assume was her own stepson. The second film was 'Makamashi', which was also a hit, from that time till date I think, I have featured in about two hundred home movies.
What is your dream and aspiration in life?
I want to be an exemplary leader who is focused and has a vision to bring positive changes in the lives of people.
Where do you see the industry in future?
With the new development and progress recorded so far, I have the feeling that the industry will transform to an international standard and compete favourably with its counterparts like, Nollywood.
Are you saying Kannywood can't compare with Nollywood?
Yes, but the difference is that Nollywood uses the national language while we use our mother tongue. In the past we were using outdated equipments in our movies while they used sophisticated ones which was why their visuals were more clearer and richer than the home movies we produced. We now use sophisticated gadgets while shooting films and we have started getting invitations to act films alongside the Nollywood artistes. More graduates are getting into the industry unlike before when we had artistes who were not well educated. Another thing is that Nollywood has exhausted their story lines and now repeat them while we are just starting to showcase our talent especially in our culture.
It is alleged that you would sometimes snub your fans in public, how true is this?
I think I am one of the simplest artistes in the industry. The truth is that the roles we act in movies do not translate to who we are, or how we behave in real life. For instance, I hardly act a movie without slapping someone, but that does not mean that I am violent.
What the public should understand is that we are all humans and at various times act differently; maybe those who had bad encounter with me met me in a bad mood. But I am not arrogant, as reported in some papers.
There was a time the media reported that I was a playboy who courted and proposed to many girls only to dump them later.
How would you describe today's Kannywood movies?
The ban by the censorship board in Kano has brought about sanity in the industry which is why we now produced good movies; the scripts are now censored before we are allowed to act them.
Some Kannywood films are acted outside the state, are there still problems with compliance or has it to do with sales?
No, it may interest you to know that the scripts play a vital role in determining the locations a film can be shot. I still act and produce my movies in the state. It is not all about not wanting to comply with the rules and regulations governing the industry. We all need new locations because we have exhausted all the locations in the state and we want our viewers to see something new and unique. Recently, about 10 of our movies were acted, directed and produced by our artistes were acted in Dubai.
How are you enjoying stardom?
I enjoy every bit of it and it has transformed me and brought a lot of changes in my life, but there are some aspects that I don't enjoy. I have lost my privacy and that makes me feel like there is a surveillance camera being placed to monitor my activities even when I am not on stage.
The irony is that sometimes it is the negative reports that brings out an artist.
What should your fans expect from you in the near future?
They should expect a lot from me. I have about five movies in the works this year including Sardauna, Walaha, Almustapha me yen'mata and Ga zamani.
Would you allow your wife to act in a movie?
No! But I will allow her to work after she graduates; she is now in her third year in the University and I will want her to contribute to national development.