DESIRE! ...Keeping men in queue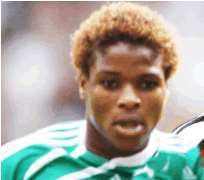 Though the Falconets did not win the FIFA Under-20 Women's World Cup in Germany, the player who wore the No. 9 shirt for the team, Ms Desire Oparanozie, has won the hearts of many.
While Nigerian men are not known for throwing flowers and chocolates to someone that catches their fancy, the fair-skinned beautiful 17-year-old damsel, who terrorised the defence of their opponents at the Women's World Cup in Germany, has enchanted them.
With her winsome smile and luscious lips that hint at deep secrets, coupled with her exploits at the World Cup, Oparanozie has ensnared a trail of men desirous to touch even only her skin.
There is no gainsaying that the Delta Queens' mastery of the round leather game with her beauty, has endeared her to many hearts.
Little wonder many of her fans trooped to the Murtala Mohammed International Airport, Lagos, on Monday, to catch a glimpse of her and the entire Falconets on their return from Germany.
As the jubilant crowd waited at the airport for the arrival of the team amidst blaring of trumpets, drumming and throwing banters, most men around muted that Ms Desire Oparanozie had indeed earned a pride of place in their hearts.
We could not help but listen to a few comments coming from the men, who were vocal in their admiration for the damsel.
"O! that No. 9, na very fine babe. Her smile na die," one commented in pidgin.
"She is not just beautiful, but also a very good player," said another.
"Na because of her I dey take this shit from the police. I just wan see her face," stated yet another.
When the players eventually came out of the Arrival Hall, Desire, with a garland around her neck, registered her signature, smiling shyly, waving hands to some and having some few handshakes before entering into one of the awaiting buses lined up to convey the team to Sheraton Hotels and Towers in Ikeja, Lagos.
Guys' admiration for Ms Oparanozie did not, however, end at the airport. Instead, at the hotel, Desire was still the cynosure of all eyes. Even some white men at the hotel lounge trampled upon people to get close to where she was sitting among her teammates, just to have a handshake with her.
After a lull from journalists and admirers, who swarmed around Oparanozie, Sunday Sunsports walked up to her to ascertain how she felt being the fairest among the fair maidens. "I feel honoured and happy to play for my country. It was a privilege to wear the colours of this great nation," Ms Oparanozie began in a chat that ensued.
"Honestly, I was overwhelmed by the crowd at the Murtala Mohammed International Airport, the spectacle gladdens my heart, as it made me to feel that Nigerians appreciated our efforts in Germany.
"I appreciate all my admirers for their love and support, it is not my doing, I believe it is the way God designed it," she said.
Desire went further to reveal that though her expectation was to score as many goals as possible in Germany, she has no regrets whatsoever because her future is still bright. "I was able to score only two goals in the competition in Germany, but I think that everything is in God's hands. My aim is to play football at the highest level while I also further my education. I would like to major in English and International Relation