I Drank Strong Alcohol, Stay In Graveyard During Gangs of Lagos Shooting - Tobi Bakre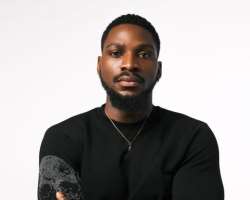 Tobi Bakre, a former contestant of the Big Brother Naija reality show and actor, recently shared his experience playing the lead role of Obalola in the crime thriller 'Gangs of Lagos'. He revealed that he had to do a lot of gritty stuff to get into character, including rolling on the floor and rubbing sand on his face.
Tobi explained that the most challenging part of his role was portraying the character's vulnerability. He even struggled to leave the character behind after filming ended, as it had affected his behavior in his personal life. The actor shared his experience on the Menisms audiovisual podcast, and praised the emotional depth of the project, which is the first African original for Amazon Prime.
He said, "You know those plastic [herbal bitters] drinks na? I drank two within the space of five minutes. I just felt like I drank water because I didn't feel anything.
"I was self-reflecting. There was a graveyard right in front of where we were shooting. So my head was in different places. And eventually, we shot that scene. After we shot it, and they said 'cut', everyone stayed quiet. And people in the background were sobbing"