We laid the foundation for Nollywood------Charles Olumo aka AGBAKO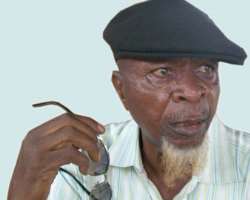 The relevance of the movie profession in the effort toward realization of peace and harmony in Nigeria cannot be overemphasized. One of those that made that relevancy a reality is Charles Olumo, the Abeokuta-born prominent Yoruba artist that has successfully spent 54 years showcasing Yoruba culture through movies.
The 83-year-old man, popularly called Agbako, the movie name that shot him into the limelight, spoke to Bashir Adefaka in Lagos recently. Excerpts:
What can you tell us about your background?
I was born in Abeokuta and had my early education there. When I was in school I was into sports because I ran a lot and did well in other sporting activities. This year I'm 83 years precisely.
When did you join the movie industry and why did you choose to play the role of Agbako (trouble) in the many movies you partook in the past?
First and foremost, I must tell you that today I am one of the happiest living persons on earth because I live to realise that I am still alive.
I embraced the Theatre in 1956 and I chose to be Agbako (Misfortune) in movies because I wanted to drive home a point that bad and good go together. As there are bad people so there are a lot who are wonderfully good.
My bad role in movies was to enable people identify bad people and be able to understand also what is bad. It was also my idea to make people know the consequences of being evil.
In short, the idea was all about teaching members of the public so that they would understand in life, if you do bad, you have the reward and if you do otherwise, (which is good), you also have the reward. That is why I chose to act with that name – Agbako (Misfortune).
Is it not true that in real life you are troublesome that was why you easily fit into that role?
Never. I have a very simple and kind character. At times some people say I am too slow as a result of my simple lifestyle. But when I come into the world of movie, haa, I am not an easy person!
Can you name those you worked with when you started?
Those I can point to among my contemporaries are very few because most of them could not endure. They still live but are not in the business any longer.
What about people like Ishola Ogunsola and others?
Those are my children. They were too junior to me.
You acted Elemoso in Ogbori Elemoso a prominent movie that showcased an aspect of Yoruba history. What informed the decision to produce that movie?
It was the owner of that movie that invited me and said that was what he wanted me to do. And I did it well.
Who could that be?
Lere Paimo: a very prominent Yoruba artist.
What is your view of the present crop of artists compared to what it used to be at your growing period?
You cannot put up the two side by side because, when we started in our own time, what we were after was how to make name and be recognised all over the places. We were never ran after money.
If we were in the business at that starting period because of money, oh, I would not be in it till today. We were after making names and also, acting had been part of us.
Do you subscribe to barter kind of acting trade?
Yes I do. Is it not to our individual benefit? That was how we used to do it before and it is in line with our tradition in Yorubaland: I follow you to your farm to join you in planting rice and you follow me to my own farm to join me in planting my yam sets. And at the end of the period, what we should have spent huge amount of money to achieve, we would discover that we achieved it through barter arrangement.
Do you believe in Nollywood?
Why not? Is it not an establishment by our children? I believe in it. Whatever our children establish, we ought to follow them and also assist them in whatever way we know we can assist them to succeed in it.
Nollywood is said to be the first to take movie to home video. Do you agree with that and if not, when was the first movie on home video made?
One thing I must say is that, there was nothing like Nollywood when the first movie on home video was made. Although I cannot readily tell now when the first movie on home video was made because it has been a very long time ago. But certainly it was not by Nollywood at all.
Does your earning as an actor commiserate with your worth?
I have told you earlier that I have continued to remain in the movie industry not because of what I am paid but because acting is in my blood and it is part of me. It its because of the money, then it is nothing to talk about at all.
I'm however talking about us the veterans, who have been in the business for a long time and are now old. But the young artists of today, we have handed the glory unto them: What they are reaping now is the legacy that we left on ground for them. And it is working well for them and they are making their money from it.
How about your marriage and how were you able to take care of marriage with the meager earning?
Oh my marriage was good. When we married, our women agreed to marry us not because of how much money we had to spend on them but because of the true love they had for us.
How many wives do you have?
I have only one wife
Why? Are you not supposed to be a typical Yoruba man?
Ah, what one person desires is different from what the other would want to have.
When we started the movie at that time I had three wives. That was a time when we could be away in locations for two years without coming home. What I can tell you is that, now, I have only one wife and that is enough for this interview.
How do people react to you on the streets when you pass by?
What we are praying for is fame and my own fame is so much that sometime when I remember what people's reaction will be to me when they see me, I don't feel like going out. This is because if you are thinking, mourning or thinking of something serious that requires silence, the noise and the hailing left and right, back and front, will not allow you to concentrate.
So, whether you have problem or you are hungry, people don't know. Al they want to do is hail and wanting to be close to you, shake hands with you and so on. But I thank God for everything.
What has stardom done for you?
It has benefitted me greatly: I have children, I own a house of my own, I have good health and I am extremely popular. That alone is enough benefit.
Are your children into movies?
None among them has taken up acting as a career but there are some that are doing it occasionally. What my children love most is to acquire education and live their lives with it. Some of them have finished in the process while some are still in school.
Would I be pardoned for trying to know how many children you have?
God gave me the gift of having many children.
Do you have movies that you have produced?
Yes, they are many.
Could you name some of them?
Agba Aja; Ajana Oro; Nkan Se; Gbotikuyo; Ninu Ikoko and many others.