TRICIA ESEIGBE'S HUBBY, KINGSLEY KERRY ADDS A YEAR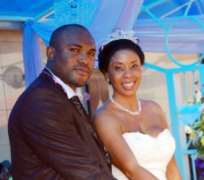 Kingsley Kerry, the handsome hubby of the screen idol, Tricia Eseigbe who presents the international TV show, Bold Faces is in the joyous mood. A call came in a few minutes ago from her adorable wife that, family and friends all teemed to felicitate with them as her husband added a year.
Kingsley, the citizen of great Britain who got married to the TV personality, Tricia Eseigbe in a glamorous way a couple of months back in Lagos having dated for several years before the holy union late last year has dedicated today to God, and of course, his adorable wife, Tricia as they both will be having dinner together later tonight at Jade Place, one of the wine/restaurant Bars on the Island.
Treech, as the beautiful Nollywood goddess is fondly called by friends and fans, said she was really happy for having such an understanding man as husband. For those who don't know, Kingley is one of the people God is using in the life of the epitome of beauty, Tricia, to her Bold Faces programme and he's seriously teaching his wife a lot about film directing and TV production
"I actually came back from the UK to spend today with him. I'm really happy to have my man, he's celebrating another addiction today, though, we are not throwing a big bash, we're just going to have a prayer session to thank God for all the good things he has made to happen in our lives. We wouldn't have wished for more." The highly elated Tricia said. The birthday boy who just returned from South Africa is planning a new soap, series and TV show which will come up any moment from now.
In a swift dimension, Bold Faces, the company that highlights about the success stories of top achievers in all sectors, most especially, in the soccer arena, is planning something big as we learnt that, 'Samadora', the screen name of Tricia, has perfected all plans to begin her Bold Faces International by the time you finish reading this.