Catholic Group Elects Okekenta Into World Governing Council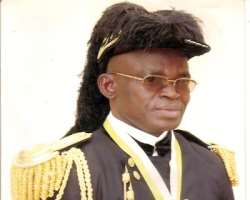 ABUJA, August 06, (THEWILL) - Nigeria's rebranding efforts went a notch higher in Midlands, Michigan, USA as Nigeria's Sir Dan Anaebo Okekenta, became the first African local delegate to be elected as a member of the Supreme Council of the global Governing body of the Knights of Saint John International, KSJI, a respected Order within the Catholic Church.
In a statement made available to THEWILL in Abuja and signed by Sir Remmy Martins Nwafor, Grand Secretary of the Abuja Grand Commandery, Okekenta was elected into the top position of the First Supreme Trustee of charity organization as the only African ever so elected and the highest African in the KSJI hierarchy at the 51st Biennial Convention of the Catholic charity and religious organization at The Valley Plaza Resort, Midland, Michigan, United States of America late July.
Okekenta, a philanthropist, author, and Abuja-based estate developer, who is the Charter Grand President of the Abuja Grand Commandery, and Second Vice President of the Nigerian arm of the KSJI, won that election and was promoted Major General in the religious/military Order, just as the Nigerian national anthem played during his elevation.
The Nigerian delegation was led by its President, Prof. C.O.E. Onwuliri, Vice Chancellor, Federal University of Technology, Owerri. The delegation included Rev. Fr, (Dr.) Ralph Madu, KSJI Nigeria's Spiritual Director and Director of Social Communications, Catholic Secretariat of Nigeria, Abuja, Sir Chidi Arinze, Prof. Romanus Unegbu, Dr. Nwachukwu Jude and N.N. Nwanesi amongst others.
Other officers elected at the convention include Gen. Tim Hearst, Supreme President and Gen. Dale Gossaux, Vice President while Lt. Gen. Tom Zdanowicz was returned as Supreme Secretary. The three men are from the USA, where KSJI has its world headquarters.
Okekenta, who is in his early 50s, is from Enugwu-Agidi town, Anambra State.
Kaduna and Benin Archdioceses of the Catholic Church were also granted the status of Grand Commanderies bringing the Grand Commanderies in Nigeria to nine. The next KKSJI convention comes up in two years.
The Knights of St, John and their Ladies Auxiliary at all levels are famous for their religious, charity and social works all over the world. This Catholic Church-based organization is a charitable, religious, social and para-military Order that cares for the disabled, widows and supports the church in several ways.
It was started in 1048 AD in the Pontificate of Pope Benedict IX, but has now spread all over the world. The modern Order of the Knighthood was established in the Holy Trinity Parish Dayton, Ohio, USA in 1870 AD, during the preparation of the Silver Jubilee of the Pontificate of Pope Pius.