Honey Jam celebrates 15 years of sweet success!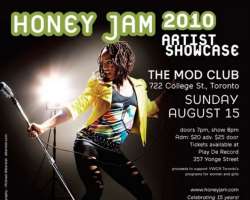 Canada's All-Female Artist Showcase Takes over Mod Club August 15
Toronto - One of the most anticipated summer events, the Honey Jam artist showcase, takes place at the Mod Club Theatre (722 College Street) on Sunday August 15, 2010.
Hosted by MuchMusic's Sarah Taylor, the 2010 edition promises to deliver one of the best showcases in the history of the event - a night of exciting live entertainment with a diverse group of artists as they also celebrates their 15th anniversary.
Ebonnie Rowe, Honey Jam Founder, Producer and President of PhemPhat Entertainment Group, says "It has been a wondrous, inspired and insane whirlwind of activity with many challenges and sacrifices along the way, but all worth it," she says. "We have made footprints in the music industry – with stiletto heels!"
Giving women a positive space to shine in the music industry – in front of and behind the scenes - is exactly why Rowe founded Honey Jam in the first place. Helping women in music soar to success is what keeps Rowe motivated despite the recent economic crisis that made it even more challenging to secure sponsorship.
Never known to let any obstacle hold back their initiatives, to supplement limited sponsorship funding, Rowe produced fundraising buttons with the quote "Honey Jam Honey, Playgirl but No Bunny!" along with organizing a raffle.
To mark the show's milestone, in honour of their 15th anniversary and as a tribute to their most well known alumni Nelly Furtado, Honey Jam artists have recorded I'm Like a Bird. It will be available for sale on itunes later this month with proceeds being split between funding for Honey Jam and the YWCA Toronto programs for women and girls. Studio time was generously donated by the Harris Institute for the Arts.
The showcase is revered for presenting a wide variety of genres of music and this year will be no different, with artists representing Country, Hip Hop, House, Gospel, Pop, R&B and rock. Please see www.honeyjam.com and click on "Artists" for the lineup. DJs for the night include MelBoogie and Tasha Rozez.
Over $10,000 in artist prizes are up for grabs, including the FLOW production prize of a track produced by Agile and the Honey Jam Hookup Prize Pack which includes sound equipment from Yamaha, consultation with a Universal Music A&R Rep, a photo shoot with Michael Alberstat, legal consultation with Taylor Mitsopolous Klein Oballa, a hair makeover by Hair2Inc., Elaine Overholt's Big Voice DVD, and a fitness package from Think Fitness.
Sponsors for this year's show include Slaight Communications Inc., Nelstar Entertainment, TD Bank, Yamaha Canada Music, MuchMusic, VerveGirl Magazine, the New FLOW 93.5, Exlaim.ca, Universal Music Canada, The Canadian Independent Recording Artists Association, Ontario Arts Council, the SOCAN Foundation, FACTOR, Taylor Mitsopulos Klein Oballa, OMDC, Canadian Musician, Northern Response and World Vision.
Advance tickets at $20 are available at Play De Record, 357 Yonge Street, $25 at the door. Proceeds from the showcase will support YWCA Toronto's programs for women and girls - www.ywcatoronto.org