BOKO HARAM: ONE YEAR AFTER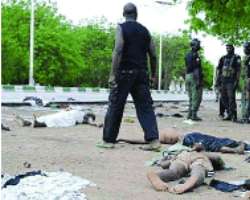 The police during mopping up
A gale of palpable apprehension suddenly swept through the city, forcing some business owners to close shop and head for their homes. Parents quickly collected their wards from the schools and raced to the confines of their homes. Many others resolved to relocate far away from town until the problem was effectively curtailed.
In the last days of last month, Maiduguri, the Borno State capital, wore a cloak of fear. It wasn't without cause. The Boko Haram insurgency, which the people believed had been completely tackled and conquered, was about resurfacing. And not many people saw the threat as a mere joke.
In an interview with a foreign radio, deputy leader of the Boko Haram sect, Abubakar Shekau who had been purportedly killed by Nigerian security forces alongside other Boko Haram fighters in an all-out war against the group in July last year, was threatening fire and brimstone. Claiming to be alive and well, Shekau said he had taken command of the Boko Haram group since his principal, Mohammed Yusuf, was killed last year. He said his group would continue to wage war against Western interests within and outside Nigeria until victory was won.
But that wasn't the only reason. The rumour mill was also agog, spinning various tales about another Boko Haram insurgency.
In the last few weeks, residents of Bauchi, Yobe, Borno and a few other states in that part of the country have been genuinely worried that the Boko Haram violence might devastate their lives once again. The air was thick with the rumour that remnants of the Boko Haram sect have since regrouped and are planning a massive campaign to commemorate the anniversary of the insurgency which hit those states like tsunami between July 26 and 31, last year.
'We are living in fear,' Rev Jerry Audu of the Church of Christ in Nigeria (COCIN), Maiduguri admitted to the reporter. 'Of course, there are fresh fears that it might happen again. Just recently, the deputy to Yusuf resurfaced on BBC and said they will come back on a revenge mission. Anybody who saw what happened will definitely not want a repeat. So people live in fear now.'
On the trail of blood
From Bauchi through Yobe to Borno States, as this reporter toured the various places devastated by the Boko Haram mayhem, chatting with residents, journalists, victims, widows, succour providers, security officers and others affected by the events of those days of dread, distress and death, you couldn't miss the apprehension on the various faces. Not too many people were comfortable with you so long as the subject matter was Boko Haram. Many were the government officials who developed cold feet and tactically refrained from making comments when they discovered that all you wanted to talk about was Boko Haram.
In Bauchi, attempts by the reporter to talk to government officials were stylishly, even diplomatically, rebuffed by such officials. Before embarking on the journey, Director of Press to Governor Isa Yuguda, Alhaji Maigari Khana, had been informed of the reporter's mission. And on getting to his office at the Government House, Khana, in a very pleasant manner, informed the reporter that being a civil servant, he would not be able to comment on Boko Haram. He directed the reporter to the Senior Special Assistant to the Governor on Media, Mallam Sanusi Muhammad. 'You know, they are the politicians,' he said playfully. 'I am a civil servant.'
Well, to the SSA the reporter went. He too was as friendly as Maigari. He would have been willing to talk, he noted, if the issue didn't have to do with security. 'But in this case, the SA Security will be the right person to talk to you. I will take you to his office,' he said.
So to the latter's office we headed. On the way, Mohammed sighted a dark complexioned gentleman he identified as the governor's Chief Security Officer. 'Come, let's talk to the CSO about the matter. Maybe he can even talk to you.' It sounded good.
The CSO was also very friendly. After listening to the reporter's mission from the SSA, the CSO asserted that it was no big deal. What he would do, he said, would be to discuss with the SA Security. Together, they would brief the SSA media who would in turn brief the reporter. The reporter was asked to return by four p.m that Friday afternoon.
By four, the reporter called the SSA, but he said he was yet to be briefed. An hour later when he was called again, he also said he had not been briefed. Thrice he was called and thrice he said he was waiting to be briefed. When the reporter called him again at about 8pm that night, Mohammed said he had now been briefed and, since it was getting late, would meet the reporter in the latter's hotel later that night. He never fulfilled the pledge.
The Police Public Relations Officer in Bauchi, Mohammed Barau is an amiable fellow. When he was asked some questions about the Boko Haram incident, he declined. 'The person you should see is the Commissioner of Police,' he said. The reporter said he had no problems with that.
'So, you will write a letter to the CP telling him why you want to interview him,' Barau said.
Informed that you came all the way from Lagos, and that letter writing wasn't part of your brief, Barau calmed down. He now gave the reporter another suggestion.
'The CP will be addressing reporters soon. You may join them. Then after the event, meet the CP and tell him your mission.' The reporter agreed and even followed his suggestion.
Eventually, the CP, Alhaji Danlami Yar'Adua, directed his deputy, Alhaji Mohammed Indabawa to talk to the reporter. According to him, he wasn't the CP in Bauchi at the time of the incident, informing that Indabawa was the man in charge at the time. A similar situation took place in Borno.
After several attempts to talk to the police authorities had been thwarted at the police headquarters in Borno, a police officer offered some helpful advice to the reporter and Timothy Ola, The Sun correspondent in Maiduguri. He asserted that the only person permitted to talk about Boko Haram was the Force PRO in Abuja, and counselled the journalists to get to Louis Edet House. And that was where the reporter eventually went.
But the attitude of the authorities wasn't totally unexpected. Earlier, in Bauchi, a senior civil servant had confided in the reporter that it would take a miracle for government officials to address the issue. 'There seems to be an unwritten law that prevents people from talking about the incident,' he had said. 'I won't be surprised if at the end of the day, you are not able to talk to as many government officials as you would have loved to.'
'Govt not helping matters'
A middle-aged Islamic teacher in Bauchi who wouldn't want his name in print insisted that the last might not have been heard of the Boko Haram insurgency. He urged Nigerians to hold the governments of those states devastated by Boko Haram responsible if the situation ever rears its head again.
He explained further: 'In the North, our religion, Islam, is the number one thing. People may not send their children to the conventional school, but you can be sure that the kids will attend Quranic schools. So, in a typical village, you may have one conventional primary school and then have up to 20 small Quranic learning centres. Whatever is taught them at the Quranic school is accepted as a message from God. Unfortunately, government treats these schools as if they don't exist. Why is it so difficult for government to absorb these schools and their teachers into the academic system and begin to pay them salaries like the teachers in the conventional schools?
'Another reason why Boko Haram may occur again is that, instead of confronting and dealing with this problem, the government is behaving as if it doesn't exist. That is not the way to go about it. Government has sort of decreed that these people's voices must not be heard. That is a major mistake. Whether you like it or not, these Boko Haram people do exist. And they are Nigerians too. What the government should do is to find a way of engaging them. Find out from where they got those bizarre ideas of theirs. Why do they say Western education is sin? Listen to their complaints. Engage a sociologist to deal with them. Then try and make them see reasons why their thinking is warped and stupid. Then, gradually, bring them back into a state of sanity. But instead of that, you are killing them, putting them in jail and so on. But these people have kids. When those kids grow up, they will ask questions about their dads. And they will be told what happened to them. If they now decide to avenge their fathers' killings, how do you stop them from starting another Boko Haram?'
'Yes, it can happen again'
Among many of the victims of Boko Haram, the fear is real that the bullets and bombs may devastate Bauchi and Maiduguri again, unless the government takes strong measures to prevent the incident.
Pastor Jerry Audu, a minister with the Church of Christ in Nigeria (COCIN) in Maiduguri, is unequivocal in his conviction that Boko Haram might occur again.
'Of course, there are fresh fears that it might happen again,' the man of God informs this reporter. 'Our people now live in fear because of uncertainty. People live in danger. Just recently, the deputy to Yusuf resurfaced on BBC and said they will come back on a revenge mission. Anybody who saw what happened will definitely not want a repeat. So people live in fear now.'
Indeed, besides the interview reportedly granted a foreign radio by Abubakar Shekau, the 'dead' deputy to Mohammed Yusuf, a video clip also materialized in the Borno State capital. The video caused a lot of apprehension.
In the video, Shekau claims he was shot in the thigh but that he was rescued by fellow believers and protected by Allah. He vowed that his group would continue to use guns to fight the 'infidels.'
Commissioner of Police in the state, Ibrahim Abdu, was confident that Shekau was dead and forgotten. He assured residents that his command was on top of the situation and urged them to go about their lawful businesses.
Deputy Commissioner of police in Bauchi State, Alhaji Mohammed Indabawa, believes the Boko Haram incident is dead and buried.
'Well, I don't think so,' he snaps as soon as you ask him if he thinks the sect can still regroup. 'Because, if you look at the history of such sects, once they are dislodged and their leaders are killed, they are never able to regroup and constitute any threats again. Take the case of the Rev Jim Jones in Guyana and David Koresh in Texas, in the United States, the sects died once their leaders died. So I don't think that these ones will come back. But then, the police in the states are very prepared for them. We are not relaxing our intelligence and we are monitoring their activities and are prepared to nip them in the bud anytime.'
While Force Public Relations Officer, Emmanuel Ojukwu, is not totally ruling out the possibility that the insurgents may threaten the peace of the society again, he's so certain that the renegades would be suppressed as soon as they make an appearance.
His words: 'The event of July 27 last year wasn't the first time we had such religious uprising when a few renegades took up arms against the government and tried to destabilize the polity. So we cannot say that would be the last time. But what we can assure Nigerians is that whenever they come up, the security agencies, led by the Nigeria Police, will be able to restore normalcy in good time so that peace-loving people can go about their lawful businesses without any fear of molestation. We also have intelligence fully beefed up now and fully deployed to make sure we are able to proactively nip in the bud any such occurrences. So we can assure Nigerians of their safety.'
What are the new measures already put in place by the police? He replies: 'We have more police presence in those areas where we are having the likelihood of such things happening. And we have our intelligence operatives in those commands that are working round the clock. And part of the measures is to engage the communities, because the people are not foreigners. They are Nigerians. And some of these bad elements that want to destabilize the country live among them in the communities. So, we are engaging opinion leaders, traditional rulers, religious leaders to partner with us to save lives and property to give police prompt and appropriate information on any such development.'
Well, not many people share such confidence. Rev Yuguda Nduvurwa, chairman of the Christian Association of Nigeria (CAN) whose church was totally razed in Maiduguri says the fear of another Boko Haram is very real.
'People are still scared that it might happen again,' he tells the reporter on a Sunday morning in the Borno State capital. 'Even this morning, I had to speak to my congregation that we should not be afraid, but that we should continue to pray and be vigilant. I gave them two solutions. One, we have to pray and fast. So we declared a day of prayer and fasting. The second thing is to prepare ourselves physically. We need to be vigilant and set our houses in order. If there are things with which we can defend ourselves, you know.'
But the authorities are saying that that kind of thing can't happen again, you remind him.
'Well, that is what they've been saying,' he shrugs. 'Before July 26, last year, the commissioner spoke. On the 20th of July last year, we went to the police commissioner. We went to the director of the State Security Service (SSS), telling them our fears. But they said, 'go back, chairman, nothing will happen. The Boko Haram people are not against Christians, they are against government.' But we have seen what happened. Before then, the rumour had been going round that the Boko Haram people would fight the government, so we wanted the security people to help us, but they remained adamant. On that Sunday, July 26, the government declared that everything was well. But later, around 9pm, the whole town was on fire. And this is what is happening around now. But it's not like last year. The security agents have stood firm. Even the Shehu has called all the Emirs that they had to be vigilant, that any man caught in his ward would be responsible. But we learnt that the people are going about killing policemen secretly.
'So we are seeing some signals. They said they are coming to avenge the killing of their leader. We should not take chances. God is our strength and he's the only one that can save us. That is why I told our members that we should pray and fast, and secondly, we should protect ourselves.'
So how do they plan to protect themselves? 'There are many ways,' says the pastor. 'Let's leave the rest in the corner.'
You also wonder why he still remains in Maiduguri with all the violence and threats? 'Well, I'm a minister and I have a five-year tenure in this state,' he replies. 'I'm also from this state. As a human being, you will be afraid. Nobody wants to be killed like a goat. But we can't leave Maiduguri because we are called to serve. So, maybe after my tenure, we may be transferred outside Maiduguri. But if we will leave, it won't be because of Boko Haram. We will not leave Maiduguri because of Boko Haram.'
It's ridiculous to say Gov Sheriff ordered any killing
Shehu Liberty, spokesman to Borno State governor, Senator Ali Modu Sheriff, in this short interview with TOPE ADEBOBOYE , responds to some allegations about Boko Haram
Security reports
On the insinuations that government ignored security reports before Boko Haram, I think it is an irresponsible insinuation, baseless and false. The Borno State government is a responsible and responsive government that gives security issues the desired topmost priority. As a demonstration of its deep concern for the protection of lives and property and its demonstration of its commitment to its responsibility of protecting the good people of the state, government has been supporting the various security agencies both financially and with working equipment. The issue of 'ignoring' security report doesn't arise because security matters are sensitive matters and measures being taken are mostly secretive and known only to those involved.
For anybody to accuse government of ignoring security reports before the Boko Haram is uncharitable considering both the covert and overt measures put in place in the state. Government is mindful of its responsibilities and will continue to carry them out diligently.
Extra-judicial killings
On the allegation that government or the governor ordered the killing of anybody, it is not only libelous but ridiculous at the same time. As you may be aware, this matter is right now in court and it will be prejudicial to comment on it. However, all I can say is that the inclusion of the office of the Executive Governor in the suit was faulty in the first instance because the police that were alleged to have 'killed' them cannot be said to be the agents of the governor of a state, even though he is the Chief Security Officer of the state.
The Office of the Governor was not involved in any way in 'extra-judicial murder' of any person but was only joined as a nominal respondent in the said suit. For the avoidance of doubt, the Executive Governor of Borno State believes in the sanctity of human life and endorses all the rights enshrined in the Constitution of the Federal Republic of Nigeria, the African Charter and the Universal Declaration of Human Rights. As a true democrat, the Executive Governor also believes in the observance of Fundamental Human Rights of all citizens and following due process in dealing with any violation of the law.
Can it happen again?
On whether Boko Haram can happen again, I pray not. For those who witnessed the incident, I am sure they will never wish to pass through the trauma again even in a dream. Government has put a lot of proactive measures in place and our security agencies are fully ready to curb any attempt by anybody or group to disrupt peace in the state. The traditional rulers have also been involved in this respect, especially in information and intelligence gathering. The people of the state have been enjoined to cooperate with security agencies by reporting any suspicious character in their midst.
Government, on its part, has promulgated the law proscribing the Boko Haram sect. All these are concrete measures put in place to prevent the recurrence of Boko Haram insurgency or any similar breach of peace in the state. The security agencies have also put their various mechanisms in place to check any attempt to cause unrest in the state. Meanwhile, government wishes to assure the general public that it would continue to protect the lives and property of the people of the state and urges the people to be law abiding and conduct themselves peacefully and responsibly.