At last, Eedris Abdul Kareem apologises to NB Plc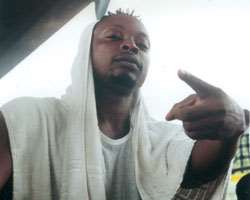 Six years after his fallout with NB plc, enfant terrible, Eedris Abdul kareem, has thrown in the towel. He extended the olive branch to Nigerian Breweries Plc last week.
In a televised speech on TV in which he addressed the brewing giant, he declared: "I am sorry for everything I have done. Please forgive me." This, hopefully will bring to an end the six year-old face-off between him and the bear maker. The question on every one's lips now is, will NB Plc take him back into its fold?
However, before the crisis in 2004, Eedris was on a roller coaster. With a fresh hit, Nigeria Jagjaga making waves, he was simply unstoppable as the corporate world romanced him. The climax was when he was selected to carry the Olympic Torch.
However, following his fracas with American rap icon, 50 Cent and his bodyguards during that year's edition of Star Mega Jam, his fortunes began to dwindle
Overnight, the brand, which he had benefitted from disowned him and his career took a tailspin after he parted ways with Kennis Music despite setting up his own record label, La Cream Records and releasing an album. Meanwhile, other corporate bodies took a cue from NB Plc and deserted him, leaving him in the lurch!
Unfortunately, Nigeria remains a country where corporate bodies remain the main driver of entertainment and so the artiste lost visibility.
Meanwhile, penultimate week on Prime Time Africa, it was a new and humble Eedris Nigerians beheld as he thanked Kenny Ogungbe profusely for taking him back on the kennis Music platform. Gone was the attitude and outright arrogance that were his trademark back in the day. The act was so sober and humbled he kept thanking Keke Ogungbe for having him back on Kennis Music. Hear him: "Thank you sir… thank you sir. I am so happy you took me back. Thanks for not throwing out the baby with the bath water," he said, bowing as he did.
At a point, Uncle Keke had to reassure him of his position in his heart: "Eedris, always remember you're an Olympic Torch Bearer. You're a big star. You don't have to say all this."
Meanwhile, he has dropped a new album entitled Unfinished Business. Hhmmm…talk about Unfinished Business.