Painting, my divine call —Toromade Ayodeji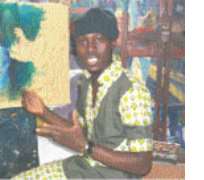 Painting, my divine call —Toromade Ayodeji
Written by REMI ADERIBIGBE
Monday, 02 August 2010 00:00

Toromade Oluwatosin Ayodeji comes from a family of seven. The first son, who is into drawing, painting and other forms of arts generally, has an ambition to be the best.
The beginning
My interest started from when I was young and noticed I could draw. I developed interest when I was in primary three. Since then, I have noticed I could do very nice portrait since I have been encouraged by my teachers in the school. But little challenges emerged and by the special grace of God, I overcame the challenges and I am now in part III in OAU doing the course of my choice.
Challenges
My major challenges are from friends. When I told them I was going to study Fine Arts, I have not made my mind, I made the decision after my S.S.C.E. I waited a year at home. I also faced challenges from my teacher in secondary school because I did have a solid background of Arts right from the secondary school. It was just a personal development. I did not do apprenticeship under anybody. It was just my self. Just my mum and my dad.
Native
I am from Modakeke, while my mum is from Osogbo, both in Osun State.
Economic and financial aspect
It's been wonderful. It is a lucrative job on the campus. Students come for portrait making. I make it for them at affordable prices because we have already noticed that if you have any art and you are busy with it, there this mentality that strikes in them that you are rich. Every time it is work and never a dull moment. The material goes for between six thousand to eight thousand. It depends on the society or the audience you want.
Source of inspiration
It is from God and my master in arts, especially in the field of painting, like Alli Brown whom I love so much. His kind personality, and the way he does things inspires me. He is wonderful person. I always ask God for direction. I don't copy anybody in art. I try to be myself because art is all about creativity and inspiration.
What next
After the completion of my university education, I will do my masters degree. I will like to be in the field of graphic art, that is, the computer aspect of it. I am also a wizard in the area of computer education. When I leave school, I intend to move to graphics art and more of painting. I do not intend to work for government; I want to be on my own.