Nollywood and Ghollywood converge for Bursting Out and Holding Hope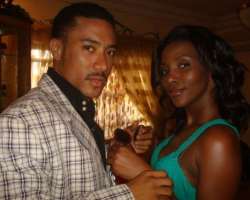 Genevieve, Majid, Uche, Desmond, Nadia, Omoni lead red carpet
Nollywood stars, Genevieve Nnaji, Desmond Elliot, Uche Jombo, Omoni Oboli will with Ghollywood actor, Majid Michael and actress Nadia Buhari storm the Silverbird Galleria, Lagos this weekend, Sunday August 8, 2010 for the premiere of Bursting Out and Holding Hope.
Coming shortly after the $2000 slam on foreign actors, the Ghollywod stars, Majid Michael and Nadia Buhari will be leading the red carpet with their Nigerian counterparts, Genevieve, Desmond, Uche and Omoni.
Holding Hope which stars actors like Nadia Buhari Uche Jombo, Desmond Elliot, Biola Williams, Ngozi Nwosu, Rukky Sanda narrates the story of Mrs. Badmus and her wayward son, Sidney; for Sidney to inherit the wealth of his mother who is dying of cancer, Sidney must cross a stumbling block and that stumbling block is no where near easy. The movie springs complexity out of a not complicated plot. The story was written by Uche Jombo, Emem Isong, and Uduak Uguamanam.
On the other hand, Bursting Out is a romantic comedy which humorously shows the expectations of the Nigerian society on the single career woman. Zara's friends share these societal views and force Zara through a series of dates in a bid to marry her off. Zara isn't swayed by any of the men and insists that she's happy alone. But is she really? Starring Genevieve Nnaji, Majid Michael, Desmond Elliot, Omoni Oboli, Nse Ipke Etim, Uti Nwackukwu; Bursting Out is produced by Emem Isong and directed by Desmond Elliot and Daniel Ademinokan.



OFFICE SCENE H.H




NSE, OMONI GENNY




CAST CREW OF BURSTING OUT




NSE N GENNY- BURSTING OUT




DES AND NADIA




MAJID N GENNY




UCHE AND BIOLA WILLS