Holding hope, Bursting Out premiere August 8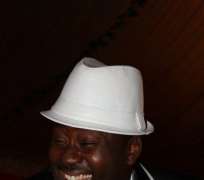 Royal Arts Academy Productions, producer of Guilty pleasure and Nollywood hustler is at it again. The firm is set to release Holding hope and Bursting out this month.
The movies are scheduled for premiering on Sunday, August 8 at Silverbird Galleria, Lagos before playing at "community cinema houses"' across the country.
Holding hope is the story of Mrs. Badmus and her wayward son. It is a story which spins complexity out of an uncomplicated plot. For Sidney to inherit his mother's wealth , he must by-pass some formidable challenges.
The story was written by Uche Jombo, Emem Isong, and Uduak Emem Oguwamalam. With an impressive cast such as Uche Jombo, Desmond Elliot, Nadia Buhari, Biola Williams, Ngozi Nwosu, Rukky Sanda and many others, it's a must watch.
Bursting out on the other hand is the story of a lady that's ripe for marriage. Her family wants her to get married to one of the many eligible suitors asking for her hand in marriage, but she couldn't make up her mind. Eventually, she decides to close her eyes and jump, a decision of faith that comes with a price. Did she eventually burst out paying the price or did she watch her desire wane?
As produced by Emem Isong and directed by Desmond Elliot, Genevieve Nnaji and Majid Michael reunite for Bursting out. Speaking on the movie, Uche Jombo said they intend to make people cry, laugh and perhaps pause and think at the same time. "It's a movie we want people to watch at the cinemas and be moved by it, cry about it, and at the same time, laugh. Really, life is too short, as there are things you can change in life, but there are also things you cannot change".
Some of the works of Royal Arts Academy include Guilty Pleasure and Nollywood Hustlers where renowned stars such as Ramsey Nouah, Majid Micheal, Nse Ikpe Etim, Uche Jombo, Susan Peters, Charles Inojie, Monalisa Chinda and many others did what they do best.