Actress, Omowunmi Dada, Gets Engaged On Boxing Day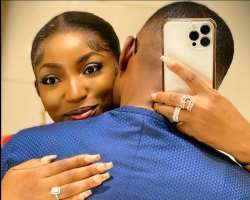 Actress, Omowunmi Dada, the award-winning actress, voice-over artist, presenter, and model has announced marital status to be "engaged" .
Her engagement story that happened on boxing day; 26th December 2022 has actually got a lot of fans talking particularly about her luck. And some has taken to their social media to congratulate her new feat.
The actress shared her good news on Monday (Boxing Day) via her Instagram page.
She shared a picture of herself and her lover hugging with the caption.
"See what I UNBOXED."