I DUMPED ACTING FOR COMEDY — JULIUS AGWU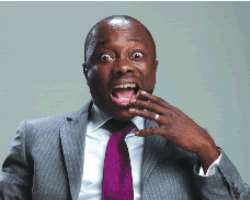 Julius Agwu
For 10 years, top comedian Julius Agwu has been dishing out jokes to Nigerians at home and abroad. A household name, Agwu won the hearts of many Nigerians with his kind of music-comedy and this had earned him the sobriquet, D' Genius. Agwu, who believes that comedians are born and not made, is planning a special package of his popular event, Crack Ya Ribs in commemoration of Nigeria's golden jubilee. He talks to Blockbuster about the show which hits Abuja tomorrow, the UK edition and why he left acting among other issues. It's vintage Julius Agwu. Enjoy:
From acting to comedy
To be honest, I didn't just stop acting for no reason. You and I know that there is a lull in the movie industry. I made a movie three years ago. It was the last movie Ebereonwu directed before he died but it hasn't been released because I was not satisfied with the final outcome. I took a break from acting because there seemed to be a time when it looked as if you were begging people to give you roles. I read Theatre Arts and I can't be begging someone for what I went to school to study. I decided to dovetail into comedy. Also, acting takes like a month, three months unlike comedy that takes only one or two hours and you are gone. I still love acting and trust me I would go back to it.
Grooming comedians
I make bold to say that my first musi-comedy album released in 2000 and entitled, Okombo was a research material for some comedians, who used it to kick start their career. That is grooming. With all sense of humility, I don't need to mention names of those who over the years have understudied me and worked with me and today are big names in their rights. I do not need to shout it out to everybody. Crack Ya Ribs is going to be 10 years old this year and I am not sure there is any established comedian that has not been part of it.
The Genius
My third album, The Genius is a bumper package. We want to give people quality. We want to be part of the campaign to stop piracy. We are writing out some of the lyrics so that people will be able to study and sing along. There is a tribute I did for those who have struggled for this country, it's called, Good People, Great Nation. It is also a song of hope telling people that Nigeria would get better. We also have Hello My Baby which was done in London, Experience, No Mind Them featuring Tuface Idibia and Ali-Ikwere, a song of unity. It would hit the market towards the end of August.
The golden jubilee show
I am taking Crack Ya Ribs to Europe very soon. Because of our nation's golden jubilee we have decided to tag the show The Golden Jubilee Edition, both the one we are doing in Nigeria and the UK. The Abuja show comes up August 1. It would feature Terry G, Jesse Jags, Kas, Maleke, Daniel the Humorous, I go Die, Seyi Law, Bovi, Senator, Osama and Funny Bone. The buzz is already in Abuja and everybody is waiting to be at the prestigious Transcorp Hilton. For the first time, we are doing two shows because we want to be able to reach out to the low income earners. We have an afternoon show that would start from 2pm and the evening show starts from 6pm. We would also celebrate people whose birthday falls in August. There is a special cake for them.
The London event is slated for August 29, during the Noting hill Carnival. We have Funke Akindele as the MC, KC Presh, Anogire, Jaywon, Teju Babyface, I go Die, Seyi Law, Daniel the Humorous, Senator, Osama, Funny Bone, Wale Gates, DJ Abass, and DJ Osajaz, among others.