Motola makes a career switch to music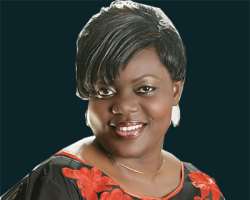 It was always going to come down to a choice between the world of business and the world of spotlights, it was always going to have to happen, Omotola Oloyede Oyebanjo had always known this much, 'Motola as she is now to be known, left a plum job as the Head of Corporate Communications for the British Council, the organisation reputed to be creating opportunities for people worldwide to seek opportunities in Music!
'Motola has over the past 15 years been involved in music at different levels, either as part of a music group, a choir or as a solo effort. However after University she focused on her career in Corporate Communications. Rising to the top of her field, she became Head of Corporate Communications for the British Council leading in the brand communications and brand management function of this international brand in Nigeria.
However, the music never died. Though she left it for a while, the music never left her. In her words "Music has always been a passion for me. Even when I was pursuing my career, I couldn't give it up totally; it just kept pushing itself to the forefront as much as I tried to keep it in check!"
Now she's fully back to the centre of her essence – music. Resigning from her very lucrative job at the British Council, she went into the studio and has now come out with her initial efforts and what effort! Working with ace producer, Wole Oni, her two singles "Nobody" and "Ase Ni" are well packaged and hot!
"It was a real pleasure working with Wole Oni on this." she says "When I was shopping for a producer, I was looking out for someone who could bring my music to life in an amazing way and he's really done that."
For those of you who don't know him, Wole Oni is responsible for producing hits like Lara George's "Ijoba orun", Midnight Crew's "Igwe" and 'Motola looks ready to be the next hit he's produced. Her music is already enjoying airplay on radio and from the looks of things it's bound to go all the way to the top of the charts.
Asked what's special about her music she says "I'm here to share a special message. That there is hope in the midst of hopelessness, that your dreams are still achievable, that it's not over until you've won and that with God you can be all you want to be. I am a proof to all these and I simply want to help others see and enjoy the same blessings."
On when her debut album will be ready, she says "I'm working towards getting it ready for the end of this year. It will include strong inspiring songs and I'm also thinking of including a special song to celebrate Christmas, so keep your fingers crossed!"