Mercy Johnson Splashes Shame On Kids - She Is Set To Correct Her Flaws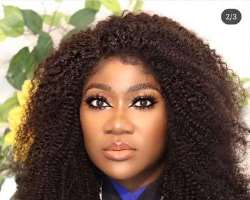 A popular movie actress, Mercy Johnson, has resentfully narrated her pain and worry emanating from taking romantic roles in movies. Upon this, she feels she has embarrassed her husband and kids and sets to correct the flaws.
In a recent interview, she expressed her disgust on what feelings her kids would have developed upon knowing the ugly roles she took in movies. However, in a bid to correct the flaws she has resolved to stop taking roles in movies that has to do with romance.
"When I do that, what would the young girls do? When you grow past a certain level you try to go ahead and do better.
For me, you don't need people to tell you what is right or wrong.
Age is telling on me, I have grown past the level. I'm answerable to too many people: my husband, my kids.
I hate to embarrass them in anyway. My daughter is growing. She gets hold of my phone sometimes, begin to google and goes like, my friend said...' and they are very inquisitive.
I don't think it's something I want to do to make my kids question me in anyway or have something in their mind that they want to ask and they can't ."