I'm back home to conquer Nollywood – Beverly Naya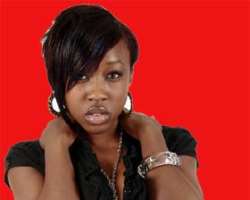 Beverly Naya, Britain-based Nigerian model and actress has finally pitched her tent in Nollywood.
The sexy actress who has modeled and acted extensively in the UK and America, took Nollywood by storm last year when she played the female lead role in Lancelot Imasuen's award-winning movie "Home In Exile."
Here, she had a steaming kiss session with ace-actor Desmond Elliot. In this thrilling encounter, Beverly who hails from Delta State takes HVP through her world of fantasy, her passion and the reason behind her homecoming to make her mark in Nollywood amongst other sundry issues.
Excerpts.
My root and my dream world
I'm a Nigerian born and raised in England. I am from Delta State and I know I'm from Ibuzo, the Igbo speaking Delta region. I had my formal education in the UK. I graduated from Roehampton University in London where I studied Script writing and Film making. Prior to that, I had studied Psychology, Sociology and Philosophy for my first degree at Brunel University.
I was brought up by a rod-sparing mother who pampers me with the good things of life. I did not encounter any incidence of child rivalry or juvenile inconvenience. I enjoyed all the parental attention because I'm the only child, so my mum says I'm spoilt. Even at that, I have a mother who has always been there and is supportive. There is this natural flow of communication and understanding between us.
We hardly have frictions because we have developed a bond to an extent where we make statements even in our silence mode. The bond is so strong. She is my manager, my supporter and in fact, she is my mentor who nudges and urges me on. My father shuttles between the US and Nigeria while my mum and I are back in Nigeria settling down to embrace what the country has to offer.
With this arrangement, there is bound to be some gap (with her dad) but we communicate as much as we can. The best he can do is to support my career and that he does. But one cannot compare motherly love with paternal because while the former is always more physically available, the latter is out there on the field trying out his hands on different things.
My growing up days were wonderful and full of memories that I love to relay all the time. I'm certain it is impossible for anyone to have a perfect childhood, but I feel mine was quite reasonable because my mum did a great job. I had no issues with my childhood. I was born and raised in London. I enjoyed the atmosphere in which I grew up.
I lived there with my mum and it has been a memorable experience for me. I have been coming to Nigeria for the past three years and I love every part of my homecoming. I'm more at home in Nigeria now than in the UK even though I have lived better part of my life there. I lived in London from birth till I was six months old when I later relocated to Atlanta, then Chicago and thereafter returned to London when I was eight years.
Preference for Nollywood
With all sense of modesty and humility, I have a career I'm in love with it at twenty-two years. A career totally different from what my friends in London are facing right now. Its a career in which I have endless prospects and fulfilment, nothing could have been more joyous than this. We should also not lose sight of the fact that London is not really working at the moment.
The effects of the last global economic recession is still there for all to see. We should not forget easily also that London is owned by whites and definitely, whites will get jobs faster and easier than blacks. But here it is different. So, why shouldn't I come back to my own country where I know that I will always be accepted, appreciated and loved. I think those are the major reasons I came back. I love where I grew up. I appreciate all the things I've learnt and I'm willing to apply them here.
Yes, I had in-depth study of Psychology, Sociology and Philosophy. I could have secured a white-collar job in any company of my choice out there but the truth is that I would not have found peace and satisfaction doing so. When the talents for acting ignited in me, I knew right away that this was what I wanted to do. I have passion for it. Honestly speaking, it was overwhelming coming out tops in my college but I believe that it buttresses my deep-seated interest in acting to a large extent.
Studying Psychology, Sociology and Philosophy wasn't with my heart. So I decided to find myself another route and I fell in love with acting and dancing. I love the fact that I could escape from who I was and become someone else. When I got an award for acting in college, I was overwhelmed because I never saw it coming at all. That experience made me believe that I can. I have acted in movies and done theatre shows. I played a lead role on a Ben TV programme called 'Dynamite' and a documentary titled 'The American Dream', which won me the Prince's Trust Award.
Playing female lead role in Lancelot Imasuen's Home in Exile
I had this opportunity to showcase the stuff I'm made off. I played the female lead in the movie which was a very challenging role for me. Desmond played Dave while I played Julie. The plot is as interesting as it is suspenseful. For me, it is very challenging while at the same time didactic. It stretches me to my full capable limit. I enjoyed the set; I enjoyed everything about the movie. The established actors were very open and so supportive.
They made me feel at home and I was able to discharge my roles flawlessly. It was one experience I will live to cherish for a long time. Also, it was an opportunity I grabbed with my two hands. It was wonderful working under the direction of one of the industry's best hands, Lancelot.
Erotic scenes
It was all pure acting. The roles must be delivered according to mood of the scenes. It must be seen by the audience to be real. Personally, I did not get involved but professionally, Julie was seen doing all those things she did in the movie. Let me emphasize here that Nigerians are sophisticated and conscious enough to know the difference between reality and make-believe. I don't really think issues arise from kissing or playing romantic scenes in films.
Artistes encounter challenges when they find it difficult to detach themselves from roles they are often seen playing. There are artistes who get stuck to particular roles and as a result, become stereotyped as the very characters they play. Julie had to act as if she was actually in a relationship with Dave(Desmond Elliot). And she did just that.
My career revolves around professionalism. I am careful about the way I carry myself. I wouldn't want to be in the predicament of losing a contract because someone lacks professionalism. I handle myself with dignity. I know I'm a beautiful woman and men would always make advances even outside the industry but I try as much as possible to be polite in turning them down.
Relationship
I'm in a relationship with my career at the moment. Of course, men come in droves, both with genuine intentions and ulterior motives.