I do not subscribe to the idea of Nollywood —Dele Odule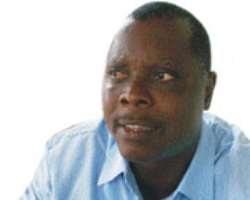 Dele Odule, a veteran in the film industry, in this exclusive chat with Remi Aderibigbe in Ibadan, expressed his views on the activities of the theatre practitioners in Nigeria, while lamenting the uncomplimentary roles of the film marketers. Excerpts:
Professionalism
Because of the language, we have taken professionalism for granted in the Yoruba film industry. We believe we do not need the orientation. Theatre is beyond 'I know how to speak Yoruba.' It is beyond 'I have been trained by one person or the other.' Although they say experience is the best teacher. If you have an orientation, you have your tutelage under somebody who knows the nitty-gritty of the job but much more is still needed than that. However, we have a lot of mediocre today. The reason for this is because they believe it is something they can do without necessary having that serious orientation from those that really master the job from an institution that offers training on the profession. Not until when we have a formidable association that we put everything in order.
Marketing
The industry is experiencing poor market network as a result of this same plague of mediocrity. There is no way you can sit down in Idumota or Ikorodu or anywhere in Lagos and be expecting people from Damaturu to come and patronize what you are selling. You need to get across to the buyers. It is because our people do not understand how to market artistic products. It is not a container. It is a product. Marketing theatrical products has to do with high degree of professionalism. Marketers constitute major problem in the industry.
Confusion in the industry
Marketers have assumed the role of producers and executive producers. These roles are different from one another. Producers oversee the entire work of production technically. He sees to the employment of all the technical crew. The executive producer is the financier. He may not know about production aspect but he specializes in finances. Marketers are just to market the products but unfortunately nobody is ready to finance again.
ANTP presidential race
I am still in the race. Election has been postponed and we are waiting for the day. I want to state specifically that I have neither been the chief security nor the chief accountant of ANTP. If anybody has a genuine case or evidence as regards the issue of financial misappropriation, such person should come out with any concrete evidence.
Nollywood idea
I do not subscribe to the idea of Nollywood. It is a confused ideology. Are we being referred to as Nollywood because of the job we are doing? If I must believe in what I know, we are not wood in any sense. Is compulsory we are wood? Are we not practising theatre? In U.K. or U.S. wood is an artist settlement. It is a place where they are practicing their job. If I what to shoot a film in Nigeria I must beg you in order to allow me use the place as my location.
Theatre in Nigeria
I appreciate Yoruba actors. No theoretical orientation and they are doing well. I adorn them so much but they must not limit themselves to a situation whereby they will not understand the theory of the job. You need to be a professional.
Female fans
I manage them very well.