I can't stop having sex at 84–Fatai Rolling Dollar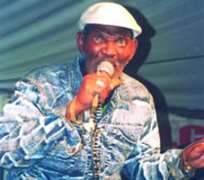 It is true age has caught up with him, yet 84-year old maverick Highlife singer, Fatai Rolling Dollar won't retire from music now. The octogenarian singer was last week hosted to a birthday party in Surulere area of Lagos by the Association of Voice Over Artistes (AVOA) in recognition of his great contributions to Nigerian music.
He used the occasion to reaffirm his commitment towards musical production, adding that as long God grants him life, he would continue to perform both on stage and on vinyl.
" I'm not retiring yet and I won't retire myself. As long as God grants me the privilege of life, I will continue to sing and produce more albums. God has given me enormous strength to do this" .
Asked about the secrets of his longevity, Pa Rolling Dollar said only God grants long life but that he has since learnt how to apply moderation in all aspects of life. He disclosed how he stopped intake of alcohol close to 30 years ago and how he has always watched the type of food he eats.
Nevertheless, Pa Rolling Dollar has a weakness, which he is yet to relinquish. He told Daily Sun " My only weakness is sex. I can't stop it. My youngest wife is 26 years old and I have kids who are still very young. I'm expecting a baby very soon and my wife knows I'm still strong and agile. I don't know how to stop sex and it has never weighed me down. I'm very strong in this area".
Asked about his musical career so far and what he observes in the musicians of nowadays, Rolling Dollar said he admires a few young musicians but that majority believes in instant success and money rather than sacrifice. " Many of them don't want to learn before they leap. Music is serious business and you can't wake up today and say you want to sing and become popular. You need the apprenticeship, you need to be trained and you need someone to guide you. You also need to be a good student of people and society" explained the 84-year old singer who said the late Afrobeat King, Fela Anikulapo Kuti actually learnt guitar from him.
" At that time Fela was young but he was quite talented. He was always ready to learn. He just arrived from abroad but he humbled himself to learn. He just arrived from abroad but he was prepared to learn the rudiments of Highlife, which was the reigning genre then. He was always in company of the late Bobby Benson and some other young musicians who wanted to learn from the masters. Fela could be a radical, yet he was very humble and always ready to learn every new thing about music then. Some of us were not surprised when he was getting so popular both at home and in the West" explained Rolling Dollar.
On how he was able to secure permanent accommodation in Lagos, Pa Fatai recalled " It was courtesy of Ashiwaju Ahmed Tinubu, former Governor of Lagos State who saw me during a show and gave me his card to see him.
Later, Ashiwaju offered me an apartment inside the estate built for top officials of government. I now live in the apartment and I will forever remain grateful to Tinubu who recognized my talent and rewarded me".
At the birthday feast organized for Rolling Dollar on Friday July 23, AVOA president, Daphine Atere-Roberts said the association chose to honour the aged musician in recognition of his commitment and great contributions to the development of Nigerian music.
Also the duo of Atere-Roberts and Ehi Omokhuale (Vice President of the association) hinted that AVOA offers a golden platform for Nigerians who wish to use their God-given voices to make a living.
For prospective members who have satisfied the basic membership requirements and whose voices are not yet commercially viable but are trainable, AVOA usually sends them for voice perfection at Radio Nigeria Training School Ikeja. Said the duo "Because we believe in professional excellence, and the need to continually update our skills in order to serve our various publics and clients better, we do organise a yearly in-house voice re-training programme for all our members (old and new). This year's edition featured media personnel, actors, teachers, public speakers and others as beneficiaries of the five-day workshop held in May.
Our members numbering well over 100, provide voice work on advert/broadcast materials such as Jingles, Documentaries, Interactive Voice response. The AVOA Gazebo' is our relaxation pavilion occupying the posterior end of our national secretariat located in Surulere, Lagos. The Gazebo was established as the space for meetings, workshops, performances and relaxation of members and guests. Over the years, The Gazebo has also become a networking point for our friends and colleagues in creativity.''