Omowunmi Akinnifesi distances self from affair with Naeto C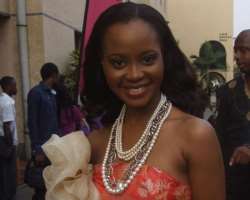 Adorable Lagos State Environmental Ambassador and erstwhile Most Beautiful Girl in Nigeria, Omowunmi Akinnifesi, has condemned the rumour alleging an impending wedding between her and Kini Big Deal crooner, Naeto C.
In a recent encounter, the delectable and sexy ex-beauty queen maintained that nothing could be farther from the truth. Denying having anything intimate with Naeto C, who is the son of former Aviation Minister, Mrs. Kema Chikwe, Wunmi, like her friends call her, wondered why some funny characters now take delight in weaving unpleasant stories around her and her love life. She was first linked with one Dele Fasan, which later turned out to be a ruse. And now, this weird one with Naeto C.
On how the rumour came to her knowledge, the Geography and Regional Planning graduate of the University of Lagos said: "It came to my attention on Twitter, because I don't read magazines that don't have credibility and that can't be sued. My friends and I laughed about it and my first reaction was to ignore it, but then other media houses, big and small, continued to carry the false rumour without confirming from me first".
Admitting knowing the crooner like all those that listen to his music, she, however, insisted that she doesn't have any relationship whatsoever with Mrs. Chikwe whom the mischief makers alleged is in the know of the non-existent affair, and as a matter of fact hasn't even met her physically.
Visibly embittered Wunmi, urged the wicked tale bearers to get off her back as she's busy working on some special projects and focusing on her newest academic endeavours and ambassadorial work for Lagos State. "As anxious as they are to see me walk down the aisle, let them wait until there is indeed a suitor and I make that person's identity known to the public, not some jobless people imposing somebody on me."