No More 9ice Banter From 'Twice As 9ice' Baba Nee.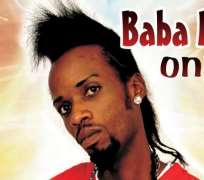 Reports were published in February, 2010 where Baba Nee, a fast rising artiste accused 9ice of 'stealing' his lyrics for his succesful album 'Gongo Aso'. Born Adewale Alani Kayode, Baba Nee followed with a track 'Twice as nice' that attempted to edge on 9ice.
The track denied him a performance at the Kennis Music Easter concert, he was clearly told he wouldn't be performing because of the said track as 9ice was said to be 'a friend of the house'. ' I was devastated because a lot of my friends and family were there to cheer me on and I was really looking forward to it.', Baba Nee said about the incident.
In a recent interview, The Mass Communication undergraduate in the Moshood Abiola University informs he would rather focus on his album that would be released in August and let the feud with 9ice pass: "Look, I am not getting into any negativity in my interviews anymore. Let's enjoy lyrics and rhythm. I have sung my songs and if anybody feels threatened by it, let them make a move and I will respond in kind. I don't want to get into any verbal issues with anybody anymore. I am a musician and my music will do the talking from now on. I Have Been Called Many Names By Somebody And He Has Even Got Other Artistes To sing bad stuff about me but my only response from now will be in my songs. It does not matter how many stars they gather in one album against me, I am still their master when it comes to lyrics and swagga. Listen to our different albums and make your own decision. I have 15 blockbusting tracks in my album as opposed to one hit to underscore my supremacy in lyrics, rhythm and swagga."
The self styled King of Tradition debut album that would sell for a thousand naira [NGN1,000] would be called 'Twice as 9ice' with tracks like '2ice as 9ice', 'Eko Wenjele', 'Agunbaje Olodo', 'Onpe' and "Wind Your Body'.
ALso, "I drove Okada, I worked as office messenger and I sold pure water", he said to enable him record the demo tape that got him a deal with Stingomania Records.