Wahala!!"Port Harcourt, Buhari People spend Fake Money For Club" : Portable Rants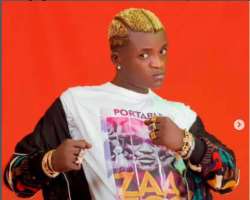 Singer, Portable has come out to decry resentfully over the fake Naira notes sprayed on him at an event in Rivers State, Port Harcourt to be precise.
In a recent video on Instagram, Portable revealed bitterly over the fake money spent on him in Port Harcourt.
He critically blamed the effect on Ninja, Hausa, whom he described as "Buhari people". On this account he declared that they had caused trouble and he may possibly get back on them.
"Omo de don spend fake money. Omo wahala don happen. De don spend dorey. This is fake money. Iya yin( your mother) porthacot it will not be well with you. Na Ninja man - Buhari people spend fake money for club. Ogun kill am for this fake money. E carry bundle . Na Hausa man, Ninjay. Ninja kom club. Ninja Kon spend fake money. Wahala. Porthacot dn cause trouble.."