Ghanaian Socialite Hajia4real Arrested For Alleged involvement In $8 Million Fraud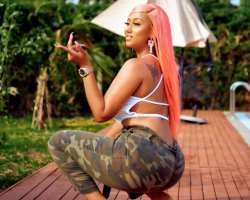 Mona Faiz Montrage better known by her stage name as Mona 4Reall or Hajia4Reall is a Ghanaian socialite, model, musician, and businesswoman. She has been arrested by the UK police for her involvement in $8million fraud.
According to the Ghanaian tabloids, she was arrested on Friday, November 11, 2022, over the shady deal during her recent stay in the United States.
Blogger Olele Salvador disclosed that Hajia4real was arrested through a collaboration between the US and the UK as she had been on a 'red list' in the US for some time now, adding that she had been picked up for questioning now.
Hajia4real who was arrested is allegedly reported to have been banned from UK prior to this incident. Infact she was referred as a middle man for some internet fraudsters by some Ghanaian media outlets.
Hajia4Real was in the UK in October for the Ghana Music Awards UK 2022 and is yet to return. Preliminary reports suggest she is in the grip of the UK police for fraud.