2011 Presidency: Jonathan's Campaigners Emerge in Bayelsa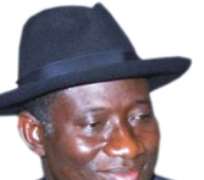 Bayelsa state on Wednesday July, 28, 2010 turned a beehive of political activities as a group which tagged itself New Nigeria Initiative (NNI) reared its head to add force to myriad of political pressure groups mounting pressure on President Goodluck Jonathan
 to contest the forthcoming presidential election in Nigeria.
The initiative, made up of mostly members of the Peoples Democratic Party (PDP) assembled at the Nigeria Union of Journalists (NUJ) secretariat in Bayelsa state to inaugurate the chapter executive, headed by Chief Bright Ereware Ikpeta also during a courtesy visit on Governor Timipre Sylva at the Bayelsa Government House made him the Grand Patron of the New Nigeria Initiative (NNI).
National Deputy Chairman of NNI and Arewa Consultative Forum (ACF) chairman of South-east, Alhaji Musa Saidu said that the reason for setting up the campaign group was to drum support for President Goodluck Jonathan as well as to adopt him as sole candidate for the presidential election in 2011.
'The motive behind setting up this initiative is hinged on our concept for change, good governance, accountability and the interest to move Nigeria forward. We strongly believe that Goodluck Jonathan symbolizes good governance and change. And that is why we are openly campaigning for him to continue with the job which late President Umaru Musa Yar'adua has started. The Yar'adua ticket should be allowed to continue. We appeal to Nigerians to adopt him'.
In a text presented on behalf of the National Chairman, Chief Diekivie Ikiogha, it stated that 'It is crystal clear to us all that since independence, fifty years ago, Nigeria is still grappling with the problem of underdevelopment occasioned by bad leadership. It is a paradox that in spite of our rich natural endowments and human potential, we still wallow in squalor, poverty and disease. Our education system is in shambles. Our public institutions are dilapidating fast. Power is elusive and our roads and means of communication are an apology. Most unfortunately, outside this country we have the worst international image.
'For so long now Nigeria has been in search of a good leader to liberate her from bondage that she finds herself. Fortunately, on this golden anniversary of our political independence, we have found a messiah in Dr. Goodluck Ebele Jonathan. We do not need a soothsayer to foretell that he is divinely sent to set Nigeria free from the reproach and inadequacies of the past leadership'.
He noted that, 'as his (Jonathan's) kinsmen we cannot afford to play to the gallery and let this opportunity pass us by. We must rise in unison and do all we can to make this vision a reality', adding that the NNI will take advantage of the forthcoming review of eligible voters to sensitize and mobilize the people to register en masse ahead of the 2011 elections and to effect change and usher in credible leadership in the country.